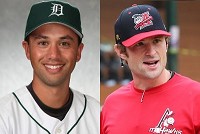 Friday, November 04, 2016
Two Former Mohawks Coaches Land High Profile Jobs
Two former Amsterdam Mohawks coaches have landed high profile jobs in college baseball this fall. Mike Brown, a Mohawks assistant in 2013 was named an assistant at Mississippi State while Nicholas Enriquez, a Mohawks assistant coach in 2003 and Head Coach in 2004 was named an assistant coach at Stanford.
Both Brown and Enriquez helped lead the Mohawks to championships in their time in Amsterdam and have used their experience with the Mohawks to land their positions at two of the perhaps ten best programs in college baseball.
A full feature on former Mohawks invovled in coaching will be released shorty.
More News