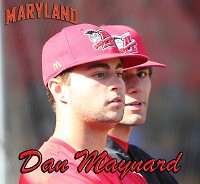 Monday, February 13, 2017
Player Profile: Dan Maynard
Dan Maynard C - Soph - University of Maryland - 5'10 195 lbs Burnt Hills, NY

As a Freshman at Maryland (2016): Appeared in 36 game with six starts…was one of Maryland's most effective pinch hitters and finished with a .306 average with an OBP of .359 and slugging percentage of .389…

Summer 2016 - Played for the Mohawks and appeared in 35 of their 49 games and batted .185 with 6 doubles, 1 home run, 16 RBI. He was used as the primary catcher for his Maryland teammate, Cameron Enck, who posted a league record 0.39 ERA in 46 innings pitched. In the playoffs, Maynard hit .308 with 3 doubles and scored 4 runs in 3 games as the Mohawks won their 8th championship.
More News