Saturday, April 29, 2017
From Amsterdam to Philadelphia, Mark Leiter Jr. makes his MLB Debut
By Jon Sargalis
Mark Leiter Jr. had a perfect beging to a story with a perfect ending. Mark grew up a couple hours outside of Philadelphia, in Lanoka Harbor, NJ. He was a Phillies fan growing up and even watched his father, Mark Leiter Sr. pitch a couple season for the Phillies. On Friday Mark achieved his dream of pitching for the Phillies and delivered a perfect inning in his debut.
Leiter came to the Mohawks in 2011 out of the New Jersey Institute of Technology and set the Mohawks single season strikeout record as he recorded 74 punch outs in 54 innings. That first year he went 4-3 with a 2.67 ERA in 10 starts and held opposing hitters to a .216 average as the Mohawks went 30-17 in 2011. In the PGCBL Championship, Leiter stated Game 1 in Newark and beat the Pilots 5-2 as he allowed 2 unearned runs and struck out 8 over 5.2 innings. Unfortunately, the Pilots came back and beat the Mohawks in a doubleheader the following day to claim the PGCBL title.
In 2012, Mark began the summer season in the NECBL and after a few weeks, decided to return to the Mohawks for a second stint with the team. In his second season, Leiter went 3-0 in 5 starts with a 1.55 ERA, struck out 32 batters and held opposing hitters to a .160 average in 29 innings. However, Mark's most impressive outing came in his final start during the playoffs. Having lost Game 1 to Mohawk Valley in the semifinals of a best of 3 series, the Mohawks faced elimination the next 2 games. Following a Game 2 victory, head coach Keith Griffin turned to Leiter in a do or die Game 3 with a trip to the PGCBL Championship on the line. Leiter put the team on his back and pitched a masterpiece. A complete game, two-hitter, with 13 strikeouts and retired the last 11 in a row. The Mohawks won 4-2 and went on to defeat the Glens Falls Golden Eagles to claim the PGCBL title.
Leiter is the Mohawks all-time strikeout leader with 106, and is the only Mohawk to have reached triple digits in strikeouts. In 2013 at NJIT, Leiter pitched a 20-strikeout game and later that year the Phillies selected him in the 22nd round of the draft. Leiter had been advancing through the Phillies minor league system and had been placed in Triple-A for the first time following spring training. Out of the bullpen, Leiter had struck out 11 batters in 5.1 innings with a 1.69 ERA for Triple-A Lehigh Valley. When outfielder Howie Kendrick landed on the 10-day disabled list last week, the Phillies decided to add pitching depth and called up Leiter.
On Friday, against the Dodgers, Leiter got the call to pitch the seventh inning. He pitched a perfect inning with 2 ground outs and got Chase Utley (who Leiter grew up watching play for the Phillies) to fly out.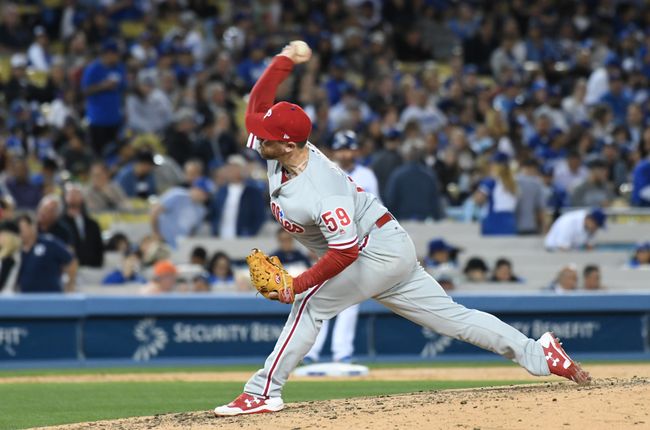 Mark Leiter Jr. delivers a pitch in his MLB debut Photo Credit: Richard Mackson-USA TODAY Sports
"It was cool," Leiter said. "Growing up watching the Phillies, he contributed to a lot of great years. Any time you can face guys that you watched growing up and rooted for is a pretty cool feeling. That's something you dream about."
"He pitched pretty well," Phillies Manager Pete Mackanin said. "For his Major League debut, he was pretty cool, calm and collected. It was nice to see."
More News