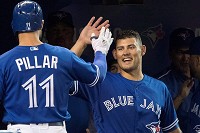 Sunday, April 30, 2017
Maile Makes Blue Jays Debut
By Jon Sargalis
Luke Maile has returned to the big leagues. The 2010-11 Mohawk catcher is now a member of the Toronto Blue Jays after being called up on Friday.
Maile spent his first five seasons in the Tampa Bay Rays organization. He made his first appearance in the majors in 2015 with the Rays and was between Triple-A and the Majors in 2016. Luke played 57 total games with the Rays and was a strong defender behind the plate, however he only hit .214 in his time at Tampa.
The Rays added catching depth in the offseason and Luke went to spring training to compete for a spot on the Rays roster. Luke started to show his offensive capabilities that made him a name with the Mohawks and in 15 spring games, he hit .371.
Following spring training, the Rays designated Maile for assignment. The Toronto Blue Jays, who had veteran catchers Russell Martin and Jarrod Saltalamacchia on their roster decided to claim Luke and assigned him to Triple-A Buffalo to start the season.
Saltalamacchia had a rough start in Toronto and after starting the season 1-for-25 (.040 average), the Blue Jays designated him for assignment and called up Maile. The Blue Jays wasted no time putting Luke in the starting lineup and Toronto happened to be facing his former team, the Tampa Bay Rays on Friday. Luke went 0-for-3 with a walk in his first game, but it seems like he'll be in Toronto for the foreseeable future as the backup catcher to Russell Martin.
More News