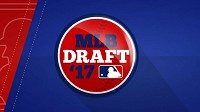 Tuesday, June 13, 2017
11 Selected in 2017 MLB Draft
By Jon Sargalis
11 former Mohawks were taken in this year's MLB Draft and 6 players who were supposed to come, but were sidelined by injury, an innings limit, or school obligations.
Former Players:
Riley Mahan, Craig Dedelow, Zach Logue, Justin Yurchak, Evy Ruibal, Tyler Ratliff, Jonathan Pryor, Connor Johnstone, Connor Heady, Griffin Roberts, Tim Naughton
Unable to attend:
Evan White (15-Kentucky) 1st round 17th overall to Seattle
Daniel Tillo (16-Iowa Western CC) 3rd round to Kansas City
Max Roberts (17-Walbash Valley CC) 7th round to Seattle
Daniel Robert (15-Auburn) 21st round to Texas
Scott Boches (16-Marist) 30th round to Seattle
Drew Carlton (15-Florida State) 32nd round to Detriot
3rd Round: Riley Mahan - Miami Marlins
Riley Mahan played for the Mohawks in 2015 out of the University of Kentucky. That summer he hit .303 in 47 games with a team high 11 doubles and 38 runs scored. He also belted 3 home runs, drove in 21 runs and stole 14 bases.
This year at Kentucky, Mahan was moved from short to second. He drove in 67 runs, the 6th most in UK single-season. He had 41 extra base hits among his 88 hits, batted .336 and slugged .618. Mahan earned All-America, 2nd Team All-SEC honors this season, was named a Dick Howser semifinalist, and was a three-time SEC Player of Week.
9th Round: Craig Dedelow - Chicago White Sox
Craig Dedelow was an outfielder and first basemen for the Mohawks in 2015 out of Indiana. He hit .280 with 2 home runs, 6 doubles and 21 RBI in 36 games.
This season at Indiana, Dedelow hit .258 and belted 19 home runs, 12 doubles, 2 triples with 54 RBI and 40 runs scored in 60 games.
9th Round: Zach Logue - Toronto Blue Jays
Zach Logue was the 2015 PGCBL Pitcher of the Year for the Mohawks. The lefty Kentucky Wildcat pitcher started 9 games, had a 7-0 record with a 2.29 ERA and 50 strikeouts in 51 innings.
At Kentucky this season, Logue was 7-5 with a 4.97 ERA and 88 strikeouts in 87 innings.
12th Round: Justin Yurchak - Chicago White Sox
Justin Yurchak came to the Mohawks in 2015 from Wake Forest and transferred to Binghamton University. The Shen grad played third base and hit .306 in 47 games for the Mohawks. He had 7 doubles, 3 home runs, 25 RBI and scored 34 runs.
This season at Binghamton, Yurchak hit .320 in 43 games with 9 doubles, 3 home runs, 26 RBI and scored 30 runs.
16th Round: Evy Ruibal - Los Angeles Dodgers
Evy Ruibal pitched for the Mohawks in 2015 out of Notre Dame. He had a 2-1 record with a 4.38 ERA in 39 innings with 39 strikeouts.
At Notre Dame this year, Ruibal had a 5.52 ERA in 14.2 innings pitched and struck out 8 batters.
17th Round: Tyler Ratliff - Texas Rangers
Tyler Ratliff played just 13 games for the Mohawks in 2016. The Marshall third baseman/pitcher hit .227 with 2 doubles, 2 home runs, 4 RBI, scored 7 runs and stole 3 bases. On the mound he pitched 3 games for a total of 5 innings. He had a 3.60 ERA with 9 strikeouts.
This year at Marshall, Ratliff hit .295 in 53 games with 15 doubles, 3 triples, 11 home runs, 47 RBI and scored 53 runs. On the mound he had a 1-0 record and 3 saves with a 1.29 ERA. In 7 innings he struck out 11 batters.
19th Round: Jonathan Pryor - Washington Nationals
Jonathan Pryor was an outfielder from Wake Forest in 2014 with the Mohawks. He played 44 games and hit .252 with 11 doubles, 1 triple, drove in 24 runs, scored 23 and stole 9 bases.
At Wake Forest, Pryor hit .354 in 63 games this season. He had 21 doubles, 4 home runs, 35 RBI and scored 55 runs.
21st Round: Connor Johnstone - Atlanta Braves
Connor Johnstone pitched for the Mohawks in 2014 out of Wake Forest. Johnstone started 8 games and had a 3-2 record. In 41.1 innings he had a 3.27 ERA with 26 strikeouts.
This season at Wake Forest, Johnstone had an 8-0 record in 15 starts with 2 complete games. In 92.1 innings, he had a 3.61 ERA with 69 strikeouts.
23rd Round: Connor Heady - Los Angeles Dodgers
Connor Heady was an infielder from Kentucky in 2014. Unfortunately, he only played in 4 games before going home due to injury. In those 4 games, he hit .214 with 2 RBI, 3 runs scored and stole 1 base.
At Kentucky this season, Heady hit .276 in 66 games with 9 doubles and 7 home runs. He drove in 32 runs and scored 47.
29th Round: Griffin Roberts - Minnesota Twins
Griffin Roberts pitched for the Mohawks in 2016 out of Wake Forest. He had a 4-1 record with a 3.34 ERA in 35 innings and struck out 41 batters.
At Wake Forest, Roberts was 2-5 with 8 saves in 29 relief appearances. He had a 2.19 ERA in 53.1 innings, struck out 80 and held opposing hitters to a .160 average.
34th Round: Tim Naughton - Baltimore Orioles
Tim Naughton was primarily the Mohawks closer in 2016. The NC State right hander had a 4-1 record with 5 saves and a 1.88 ERA. In 28.2 innings he accumulated 43 strikeouts, good for a 13.5 K/9 ratio.
At NC State, Naughton made 11 appearances and had a 3.00 ERA with 13 strikeouts in 12 innings.
More News