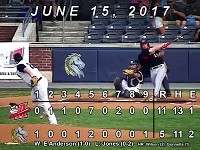 Thursday, June 15, 2017
Mohawks score 7 in the 5th, defeat Stallions 11-5
Saugerties, N.Y. - Tonight's game was played between the Amsterdam Mohawks (5-3) and the Saugerties Stallions (6-4). Coming into this game, the Stallions are riding a three game winning steak. One of those wins came against their opponent, the Amsterdam Mohawks. The Mohawks offense was just too much for the Stallions to handle this game. The Mohawks beat the Stallions 11-5.
The pitching matchup was Amsterdam's Brandon Reitz (Florida State University) and Saugerties' Matt Jones (Manhattan College).
The Stallions took an early 1-0 lead in the first inning when Andrew Taft (U of Buffalo) hit a sacrifice fly and Luke Pettersen (Minnesota) scored.
After a 1-2-3 first inning for Matt Jones and the Stallions, Liam Wilson (Canisius) led off the second inning with a solo HR.
In the third inning, Dylan Reynolds (Fairfield) hit an RBI single and scored Eric Rivera (Florida Atlantic).
In the fourth inning, after a long battle at the plate, John McKenna (Army) hit an RBI single that scored Tyler Kelder (St. Bonaventure). McKenna reached second base on the throw home.
The Top of the fifth inning is when the Mohawks took the lead and didn't look back. They scored a total of seven runs that inning. Following Eric Rivera's ground rule double, TJ Collett (Kentucky) hit a groundout that scored Julian Gallup (Niagra). Liam Wilson followed that up with a ground rule double of his own. Dylan Reynolds (Fairfield) hit a single, then Dan Maynard (Maryland) hit an RBI double. They also scored a run on a wild pitch by the Stallions. During that at bat Will Holland (Auburn) reached base on a walk. Anthony Gonnella (South Florida) hit a big 3-R HR for the Mohawks.
After the Mohawks explosive inning, the Stallions were never able to climb back into the game.
Nick Bird was the winning pitcher and Matt Jones was the losing pitcher in tonights contest.
The Mohawks went on to beat the Stallions 11-5. The Stallions next game is Friday, June 15 at Amsterdam.
More News