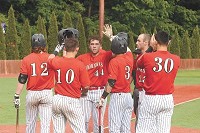 Friday, June 23, 2017
Mohawks sweep doubleheader, move into first in East
By Adam Agresta
Box Score Game 1
Bax Score Game 2
The Amsterdam Mohawks routed the Saugerties Stallions in both acts of a doubleheader Friday night at Shuttleworth Park in Amsterdam, first by a score of 13-2, then by a score of 8-1.
Both games went 7 innings each, with Andrew Saalfrank (Indiana), going all 7 innings of game 1, giving up 2 runs on 2 hits and 1 BB, with 7 K's. T.J. Collett (Kentucky) went 2-2 with 5 RBI's, including a monster 3 run homer, and John Valente (St. Johns) went 3-5 and was a HR away from the cycle. Nick Campana (Hartford) went 1-3 with a HR in the loss.
In game 1, Campana led it off with a bomb over the left field wall, giving the Stallions their only lead of the game.
In the 2nd, the Mohawks jumped out to a big lead thanks to a 6-run inning that included Collett's big fly. Amsterdam would add 4 more in the 4th on a 2-RBI triple by Matt Gorski (Indiana) and RBI singles from Collett and Liam Wilson (Canisius).
The Mohawks would add 3 more, and the Stallions could not recover, with the loss going to Matt Jones (Manhattan), and the win going to Saalfrank.
In game 2, the results stayed much of the same, with the Mohawks scoring in every inning but the 2nd. Danny Skelton (Mississippi St.) went 1-2 with 2 RBI's and John Valente stayed red hot, going 3-4 with 1 R. Nick Campana went 3-4 in the loss.
In the 1st, TJ Collett would score the first run of the game on two throwing errors by Saugerties, and from there the Mohawks would never trail.
The Stallions scored their only run of game 2 on an RBI single by Matt Feinstein (Dartmouth). The Mohawks would have their biggest inning in the 5th, when Liam Wilson led off with a home run to left -center, and Skelton would plate two more on a single. Amsterdam would add 2 in the 6th and 2 more in the 7th to win by a score of 8-1.
Nick Chiseri (Connecticut) would pick up the win for the Mohawks in relief. Drew Farkas (Hartford) would take the loss for Saugerties, and Carter Knapek (Boston College) would pick up the save after 3 innings of scoreless relief.
These teams will meet again tomorrow night at Cantine Memorial Field in Saugerties, with the first pitch slated for 7:05 PM.
More News