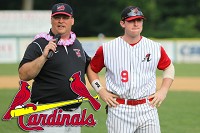 Wednesday, June 28, 2017
Nogowski signs with Cardinals
By Jon Sargalis
Former Mohawk John Nogowski has a new home with the St. Louis Cardinals after signing with them on Monday.
Nogowski played first base with the Mohawks in 2013 out of Florida State and was named the 2013 PGCBL Player of the Year. That season, the Mohawks won the PGCBL Championship and Nogowski hit .365 with 3 home runs, 14 doubles, 1 triple and 24 RBI.
The Oakland A's drafted Nogowski in 2014 after his junior season in the 34th round. In 245 minor league games, Nogowski hit .272 with a .349 OBP. He hit 13 home runs, 47 doubles, 1 triple and drove in 115 runs. Last year the A's promoted John to Double-A where he had 1 double and 1 home run in 7 games played before being sent back down.
The A's released Nogowski at the end of the 2016 season and he went to the America-Association where he played with the Sioux Falls Explorers. In Sioux Falls, Nogowski hit a league leading .402 and had a team high 4 home runs and 28 RBI in 34 games played.
The Cardinals signed Nogowski on Monday and he's expected to join the Springfield Cardinals, the Double-A affiliate of St. Louis.
More News