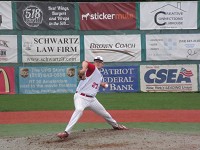 Tuesday, July 25, 2017
Saalfrank, Mohawks throw 2-hit shutout against Stallions
By Adam Agresta
Andrew Saalfrank (Indiana) threw 7 shutout innings to help the Amsterdam Mohawks defeat the Saugerties Stallions by the score of 4-0 at Shuttleworth Park in Amsterdam on Wednesday night.
Julian Gallup (Niagra), and Amsterdam native, went 2-for-4 with 2 RBI's and 2 runs scored, and Saalfrank went 7 innings, allowing no runs on only 2 hits with 3 walks, striking out 7. Matt Forlow (Manhattan) went 1-for-4 to lead Saugerties.
The scoring didn't start until the bottom 3rd, when Dylan Reynolds (Fairfield) laced an RBI single to give the Mohawks a 1-0 lead.
The Mohawks continued the scoring in the 4th, with Julian Gallup blasting a 2-RBI double into left center to make it 3-0. Two batters later, John Valente (St. Johns) would plate Gallup with an RBI single of his own to give the Mohawks a 4-0 lead.
Andrew Saalfrank gets the win for Amsterdam, improving to 6-0 on the season, while John Clayton takes the loss for Saugerties, dropping his record to 3-2.
The win improves the Mohawks to 31-12 with 5 games to play, while the Saugerties Stallions drop to 18-22, 11.5 games
The Mohawks will be back at home on Wednesday night to take on the Glens Falls Dragons, with the first pitch scheduled for 6:35 PM. The Stallions will return home Wednesday to take on the Oneonta Outlaws in a doubleheader, with it slated for a 5:00 PM start time.
More News