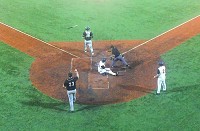 Wednesday, August 02, 2017
DiamondDawgs Rally for Game 1 Win, 4-3
By Adam Agresta
The Mohawk Valley DiamondDawgs rallied from a -3-1 deficit to take Game 1 of the 2017 PGCBL East Division Championship from the Amsterdam Mohawks by the score of 4-3 at Shuttleworth Park on Wednesday night in Amsterdam.
Russ Olive (UMass Lowell) had a 3-RBI double, and Clay Chatham (Dartmouth) threw 7.1 innings of scoreless relief to lead Mohawk Valley. John Valente (St. Johns) went 2-for-4 with an RBI to lead Amsterdam.
The win gives the DiamondDawgs a 1-0 lead in the East Division Championship Series, which is a best-of-3, with the winner of the series moving on to represent the East Division in the PGCBL Championship Series.
The scoring got started in the bottom of the 2nd, when Anthony Gonnella (South Florida) grounded an RBI single into right field to put the Mohawks up 1 to 0.
The Mohawks would add two more runs in the inning, with the first coming on an RBI fielder's choice by John Valente, and the second run scoring on a throwing error by Joe Engel (Columbia), which allowed Anthony Gonnella to score and Valente to reach safely.
Mohawk Valley would end the shutout in the top of the 4th, with Alexis Monge-Rodriguez (Barry) scoring on a double play to cut the score to 3-1, Mohawks.
In the top of the 6th, the DiamondDawgs would take their first, and only, lead of the game when Russ Olive came up with the bases loaded and cleared them of runners for a 3-run triple, putting Mohawk Valley up for good.
The win goes to Clay Chatham, who went 7.1 innings, allowing no runs on 2 hits, walking one and striking out 7. Matheiu Gauthier (NC State) is saddled with the loss after giving up 4 runs on 3 hits in 5.1 innings. Zach Vannaro (Mount Olive) picked up the save.
Game 2 of the 2017 PGCBL East Division Championship Series will take place on Thursday, August 3rd at Veterans Memorial Field in Little Falls, with the first pitch slated for 6:35 PM. Game 3, if necessary, be played at Shuttleworth Park on Friday.
More News