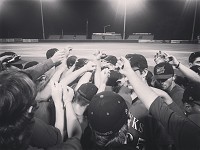 Thursday, August 03, 2017
Mohawks Comeback, Fall in Extras as Dawgs Advance to Championship
LITTLE FALLS, N.Y. – One thing has been constant in the Mohawk Valley DiamondDawgs' run for a second Perfect Game Collegiate Baseball League Championship: 4-3.
They beat Albany by that score on Monday, and took a 1-0 lead over the Amsterdam Mohawks by that same score.
Thursday night was no different, as Clay Koniencki provided some heroics in the tenth inning to give the DiamondDawgs a victory by the same score.
The Mohawks jumped ahead just four batters in on an RBI single by Dan Maynard (Burnt Hills, NY/Maryland). That hit to right field scored John Valente (New Rochelle, NY/St. John's), who led off the game with a double down the left field line.
Amsterdam starter Andrew Saalfrank (Hoagland, IN/Indiana) would load the bases in the fourth on two walks and an infield hit by Russ Olive (Chelmsford, MA/UMass Lowell). Clay Koniencki (Schwenksville, PA/Monmouth) would make him pay with an RBI single that scored Tim Zeng (Lumberton, NJ/Fairfield). Ben Porter would come home just one batter later on a passed ball. Unfortunately, it would not get any better for Saalfrank, as the same situation (a single and two walks) would load the bases again. Unfortunately, Saalfrank would not be able to reconcile the situation, as he was replaced by Carter Knapek (Albany, NY/UMass). Knapek would be able to end the inning, however, and manage to mitigate the damage to one.
Amsterdam tied it up in the top of the ninth on an RBI squeeze play by Robbie Spagnola that scored Chris Hamilton (Schenectady, NY/Stony Brook). They took the lead on another squeeze play by Valente that scored Julian Gallup (Amsterdam, NY/Niagara).
The DiamondDawgs tied the game up in the bottom of the ninth on a comebacker up the middle by Joe Engle that was far enough to score Dan Deely (Sonoma, CA/Sacramento State). Luckily for the Mohawks, reliever Elliott Anderson (Cartersville, GA/Auburn) was able to get the next two Mohawk Valley batters out to end the ninth with the score tied at three.
Koniencki would provide the final blow in the bottom of the tenth, looping a ball into right-center field that scored the game winner in Olive.
Jonathan Sell (Charlton, NY/Herkimer) picked up the win for Mohawk Valley. Elliott Anderson was saddled with the Mohawks' final loss of the season.
The DiamondDawgs will advance to the PGCBL championship to face the Jamestown Jammers. Game One will be either Saturday or Sunday at the lower seed. Be sure to keep an eye on the PGCBL Facebook page and Twitter feed for the schedule.
More News