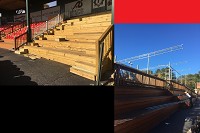 Saturday, November 04, 2017
Shuttleworth Park Update
The Amsterdam Mohawks would like to thank Dr. Govind Rao and the Neena Rao Charitable Corporation for its contribution and erecting of the last section of wooden grandstands at Shuttleworth Park.
In September, the section was built and finishing touches are currently being made which will add approximately 100 more seats for 2018. Thanks, Dr. Rao.
In addition, Shuttleworth Park's main deck will finally be getting the canopy coverage that has been discussed over recent off-seasons.
The framing has been installed for a canopy roof that will protect fans from the elements. In addition, a permanent bar will be built and televisions will be hung so that fans can watch Yankee/Mets/Red Sox games during Mohawks action.
The canopy and frame were purchased by the Amsterdam Mohawks and the Shuttleworth Park Foundation while the televisions were donated by The Recovery Sports Grill and will make a welcome addition for fans. A sponsor is still being sought for the entire deck and for the canopy.
More News