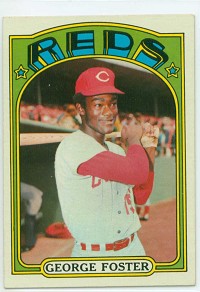 Sunday, January 28, 2018
1977 MVP George Foster to be keynote speaker at Mohawks Dinner
George Foster had an astounding Major League career that spanned from 1969 to 1986. One of the most feared right-handed sluggers of his era, he was a key piece of the Cincinnati Reds' "Big Red Machine" that won consecutive World Series in 1975 and 1976.
Foster led the National League in home runs in 1977 & 1978 and RBIs in 1976, 1977 & 1978. He won the NL MVP in 1977, a Silver Slugger in 1981 and was named to 5 All-Star teams.
The San Francisco Giants drafted Foster in 1968 and he made his debut in 1969. When the 20-year old reached the majors, he played alongside Willie Mays, Bobby Bonds and Ken Henderson.
In 1971, the Giants traded Foster to the Cincinnati Reds. Following back-to-back World Series titles in 1975 and 1976, Foster won the NL MVP award in 1977 as he batted .320 and lead the league with 52 home runs, 149 RBI and scored 124 runs.
After 11 years with the Reds, Foster was traded to the New York Mets, where he played from 1982 to 1986. Foster then finished his 18 year career in 1986 with the Chicago White Sox.
In those 18 years, Foster had played in 1,977 games, had a lifetime average of .274, belted 348 home runs and drove in 1,239 runs.
In 2003, Foster was inducted into the Cincinnati Reds Hall of Fame. George and his wife Sheila currently reside in Greenwich, Connecticut and have two daughters, Shawna and Starr.
More News