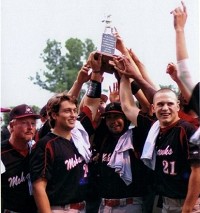 Sunday, January 28, 2018
Colantonio, Cilento, Howlan and Stanley to be Honored
Pictured: Matt Colantonio helps hoist the 2009 NYCBL trophy
Bill Cilento
A native of Brookeville, Maryland, Bill Cilento was a 4-year starter at Siena College where he graduated in 2003 with a degree in Accounting. He was a part of 2 MAAC regular season championship teams and part of the 1999 Siena team that competed in the NCAA Regionals. Bill became a Mohawks assistant coach during the 2002 season. Hunter Pence was a member of that team and the Mohawks finished the year with a league best 33-14 record. Bill has gone on to coach at Siena, New Orleans, Brown and is entering his ninth year as an assistant coach at Wake Forest. It is because of Bill and his connection with the Mohawks, that 7 players from Brown (including Matt Colantonio) and 21 from Wake Forest have spent their summers playing baseball in Amsterdam. Bill currently lives in Winston-Salem, N.C. with his wife Jennifer and his daughters, Brooke, Katie, and Megan.
Matt Colantonio
Matt is one of 11 players that have won at least 2 championships in their time with the Mohawks. Hailing from Garden City, Long Island and Brown University; Matt was a member of the Mohawks in 2009 and 2010. He hit .295 in his 2 years and was an All-Star in 2010. Matt had an incredible ability to work the count as he reached base with a .480 OBP. In fact, he still holds the team record for most walks in a single season with 34. Behind the plate, Matt was a team leader; he took control of the game and always made sure the pitching staff and defense were prepared for the next play. Defensively, Matt had a .990 fielding percentage and threw out 12 base runners. At Brown, Colantonio was a 4-year starter, team captain, and was named 1st Team All-Ivy in 2010 and 2nd team All-Ivy in 2011. In 2011, Matt graduated from Brown with a Double Major in Economics and History. He was drafted in 2011 by the San Diego Padres in the 22nd round. He went on to hit .260 in 2 years with the Padres' Eugene Emeralds (2011) and Fort Wayne Tincaps (2012). From 2013-14, he worked with the Cleveland Indians Triple-A affiliate, Columbus Clippers, in a Player/Coach/Front Office role working with the pitching and coaching staff. For the past 5 years, Matt has worked in real estate and lives in Manhattan with wife, Taylor, of 1 year.
Dutch Howlan
Francis "Dutch" Howlan became a local sports legend during a brilliant 34-year head-coaching career that saw him lead programs to hundreds of victories and numerous league titles. But before he started that coaching career at St. Mary's Institute in 1953, this Amsterdam native was also one of this city's most talented athletes. He was good enough to play varsity basketball at Manhattan College and sign a contract to play minor league baseball with the Brooklyn Dodgers. In 1943, he put his college and playing career on hold so that he could serve his country as a US Navy radioman in the South Pacific during World War II. In 1946, Dutch came back and began a minor league pitching career that lasted 4 seasons. He compiled a 30-24 record for a total of 7 different Class C ball clubs, including the Gloversville Glovers during his final season in 1951. Howlan obtained a Bachelor's degree from Manhattan College and came back to Amsterdam to work at SMI in 1953. He coached baseball at SMI from 1953 to 1968 and football from 1965 to 1978. He made a name for himself coaching the SMI Gael and Scully Mohawk hoops teams for 24 seasons. At that time, he was the second-winningest basketball coach in Section II history with 468 victories. In 1980, the school honored him by naming the Scully gymnasium, "Howlan Hall" and in 2013, Dutch was inducted into the New York State Basketball Hall of Fame. Howlan made the decision to retire in 1987 at the age of 62. His son "Boomer" and daughter Mary Kate had finished school and he was ready to take it easy and spend time with his wife Marion. Unfortunately, Dutch passed away 2 years later while on vacation.
Bill Stanley
When Bill Stanley graduated from St. Mary's Institute in 1958, he had just led the Gael's basketball team to two consecutive Diocesan League titles plus held the school's scoring record for a single game (50) and single season (474). Bill was also a gifted pitcher and first baseman for Dutch Howlan's SMI baseball teams during his high school years. He went on to star in both sports at LeMoyne College. When his collegiate hoops career had ended, Stanley had become the sixth highest scorer in school history. Though his collegiate baseball career was cut short, he'd come home during summers and compete in the Schenectady Twilight League as a member of the Amsterdam Rugmakers. It was there where the Orioles saw Stanley and signed him to a minor league contract in 1962. The Orioles assigned him to their D-level Appalachian League team in Bluefield, V.A. where the 22-year-old started in the outfield and hit .271. That winter, Stanley returned to the area to pursue his Masters Degree at Albany State University. In 1963, the Orioles promoted Stanley to their A-level team in Appleton, W.I. Once his playing career was over, Bill decided to pursue a teaching career and also became a highly respected area basketball coach, including a stint as a Siena College coach. He is now retired and living in Saratoga Springs.
More News