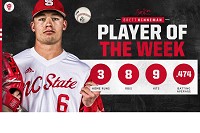 Monday, March 05, 2018
Kinneman Repeats as ACC, Collegiate Baseball Player of the Week
RALEIGH, N.C. – For the second consecutive week, NC State baseball's Brett Kinneman (Mohawks 2016) has been named ACC Player of the Week, in addition to collecting National Player of the Week honors from Collegiate Baseball Newspaper (CBN).
The junior outfielder has been on fire at the plate, as he was 9-for-19 during the week to compile a .474 batting average. His nine hits led NC State to a team batting average of .365 over the four-game stretch.
Kinneman hit a pair of home runs in last Monday's 15-5 win against Air Force to log six homers in his last four games. His streak of consecutive games with a home run ended at four, as he doubled and singled in last Friday's victory against Bowling Green.
Against Campbell on Saturday, Kinneman hit his NCAA-leading eighth home run, just two shy of his season total (10) from 2017.
The York, Pa., native collected eight RBIs during the week to rank second nationally in the statistic with 25 for the season. Additionally, his 24 hits on the year are tied for third in the nation.
Kinneman is the first NC State player to repeat as ACC Player of the Week since Chance Shepard claimed the honor in consecutive weeks Feb. 29 and March 7, 2016.
NC State is back in action Tuesday afternoon when the Wolfpack hosts UNCW. First pitch is slated for 3 p.m. at Doak Field at Dail Park.
More News