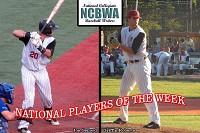 Tuesday, March 20, 2018
2016 Teammates Genord and Roberts Named National Players of the Week
2016 Amsterdam Mohawks teammates Joe Genord (South Florida) and Griffin Roberts (Wake Forest) took home hardware Monday as they were named Division I National Player and National Pitcher of the week.
Genord helped USF extend its winning streak to 8 in a row after going 9-for-18 with 6 runs scored, 3 doubles, 4 home runs and 11 RBIs. He also won AAC Player of the Week honors.
Roberts, in addition, was named the ACC Pitcher of the Week (second time this year) as he struck out a career high 13 batters over 8.1 innings in a 2-1 win over #11 Louisville on Friday.
Genord and Roberts are not the only former Mohawks to earn national attention. 2016 Mohawk outfielder Brett Kinneman of NC State took home National Player of the Week honors twice and was named the National Player of the Month for February. In other news last week, 2017 Mohawk Eric Rivera of Florida Atlantic was named Conference USA Hitter of the Week.
The Mohawks open their season May 31 in hopes of winning their 7th title in the last 10 years.
More News