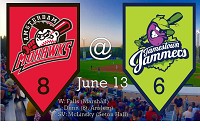 Wednesday, June 13, 2018
Mohawks Rally Twice to Defeat Jammers
By Jon Sargalis
The Mohawks had to come from behind twice to defeat the Jamestown Jammers 8-6 on the road Wednesday.
Jamestown took a 2-0 lead in the first inning of Mohawks starter Brandon McNerney. Amsterdam responded with 4 in the second with a 2-run double by Elvis Peralta and a 2-run single by Chris Lanzilli.
The score remained 4-2 until the seventh inning when Jamestown scored 4 runs. The Mohawks responded with another 4 run inning in the eighth. Michael Ludowig hit an RBI double, Sam Praytor hit a 2-run single to give the Mohawks the lead and Jake Hammon hit a sac-fly to put the Mohawks up 8-6.
Richie Barrella lead the Mohawks with 4 of their 12 hits. Ryan Falls picked up his first win and Ryan McLinskey earned his first save.
More News