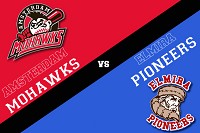 Friday, June 15, 2018
Plumlee Strikes Out 11 In Mohawks Victory
By Jon Sargalis
Amsterdam received a superb pitching performance from Peyton Plumlee on the road Friday night. The Mohawks defeated the Elmira Pioneers 3-2 as Plumlee pitched the first five innings, recording 11 strikeouts, allowing 1 hit, 2 walks and no runs as he picked up his second win of the season.
The Mohawks took a 2-0 lead in the third inning as Joe Genord and Jake Hammon each hit an RBI single. Genord lead the Mohawks offense as he reached base 4 times with 2 singles, a double and a walk.
In the fifth, the Mohawks extended the lead to 3-0 when Sam Praytor hit a sac-fly to score Joe Genord.
Elmira scored an unearned run in the seventh and a run in the ninth to make it 3-2.
Ryan Falls attempted to record a six-out save, but needed help to get the final out. With the tying run on third, and the winning run on first, Keith Griffin gave the ball to Ryan McLinskey. McLinskey was able to induce a ground ball to end the game and record his first save of the season.
The Mohawks won their third game in a row and improved to 6-5. The Pioneers dropped to 3-9 with the loss.
More News