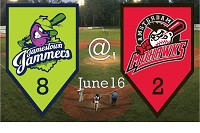 Saturday, June 16, 2018
Jammers Walk Over Mohawks, 8-2
By Adam Agresta
The Jamestown Jammers took advantage of 11 walks given up by the Amsterdam Mohawks pitching staff to hand the Mohawks an 8-2 loss at Shuttleworth Park on Saturday night. The Jammers only managed 7 hits, but they scored 5 runs on walks/hit-by-pitches while the bases were loaded.
Jamestown starter Isaiah Moten (Cal St. Bakersfield) went a spectacular 7.0 innings, giving up only 1 run on 3 hits, walking 2 and striking out 3. Brandon Nania (Winston-Salem St.) went 2-for-5 with a double and an RBI at the plate for the Jammers. Mike Antico (St. Johns) went 2-for-3 with a walk and stolen base for the Mohawks in the loss.
The game was a pitcher's duel until the bottom of the 3rd inning, when Joe Genord (South Florida) sneaked an RBI single in front of the left fielder to give the Mohawks a 1-0 lead.
However, the Mohawks lead would be short-lived, as the Jammers scored 5 runs in the top of the 5th on just 2 hits and 6 walks, bringing 11 batters to the plate. The big inning was highlighted by a Nania RBI single.
The Jammers would get an additional 3 runs in the top of the 7th, once again taking advantage of 3 walks and a hit-by-pitch to make it 8-1, Jamestown.
The Mohawks would get a run in the 9th on an error, but that would be all that they could muster, as the Jammers split the season series with Amsterdam ,1-1.
Mohawks starter Trip Lockhart (Kentucky) threw 4.0 innings of shutout ball, but Brad Busald (Indiana) and Brooks Knapek (UMass) could not find the strike zone, combining to surrender the 5 runs scored by Jamestown in the 5th. The win goes to Moten, with the loss being issued to Busald.
The home plate umpire ended up taking a ball to the head in the top of the 8th, but was awake and alert on the field before being transported by Amsterdam EMS.
The Mohawks will travel to Siena Field tomorrow to take on the Albany Dutchmen, with gametime slated for 5:05 PM, before returning home on Tuesday to take on the Adirondack Trailblazers. The Jammers will head up to East Field tomorrow to take on the Glens Falls Dragons, with 1st pitch set for 7:05 PM.
More News