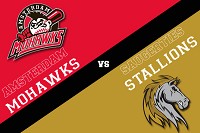 Wednesday, June 20, 2018
Stallions Defeat Mohawks, 1-0
Saugerties, NY- On Wednesday, June 20 the Saugerties Stallions hosted the Amsterdam Mohawks in a pitching matchup between Greg Allard (Stony Brook) and Zack Durant (Herkimer).
The Stallions scored the only run on the game in the bottom of the fourth inning. Zack Durant issued a bases loaded walk to Herman Alvarado (Nyack) had an RBI walk that scored Easton Bertrand (Minnesota).
Both teams had their chances. The Mohawks stranded runners on first and second with no outs in the seventh with Jason Antalek (Iona) getting out of trouble for the Stallions. The Stallions were thrown out tring to score in the third inning as John Dempsey (Wofford) singled to right and right fielder Jake Hammon (Morehead State) threw out Herman Alvarado at the plate as Sam Praytor (Alabama) was able to hang on for the tag.
The Stallions later loaded the bases with no outs in the eighth but Nick DeBrino (Canisius) got a ground ball double-play to escape without harm.
The Stallions only had 6 hits in the game, but improved to 7-9 and the Mohawks, who could only muster 4 singles, fell to 8-7.
Greg Allard earned the victory for the Stallions and improved to 1-0, he pitched the first 6 innings, allowing 3 hits, 3 walks and struck out 1. Jason Antalek pitched 2 innings and allowed 1 hit. Tyler Germanoski (St. Bonnaventure) picked up his 4th save for Saugerties.
Zack Durant took the loss, falling to 1-1. He went 4 innings, allowed 1 run on 4 hits and 2 walks with 4 stikeouts. Ryan McLinskey (Seaton Hall) pitched 3 scoreless innings, allowing 1 hit and 1 walk with 5 strikeouts and Nick DeBrino got out of a bases loaded jam to pitch 1 scoreless inning.
The Mohawks are off on Thursday and play back home on Friday against the Oneonta Outlaws.
More News