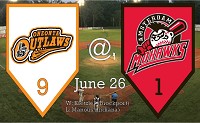 Tuesday, June 26, 2018
Outlaws Quiet Mohawks, 9-1
By Justin Cohen
The Oneonta outlaws jumped out to an early lead and beat the Amsterdam Mohawks in a PGCBL contest at Shuttleworth Field with a final score of 9-1.
The Outlaws were led at the plate by their first baseman Anthony Eaton (Brockport) who hit a first inning 3 run home run and followed up in his next at bat with a ground rule double. He finished the night 2 for 4 with 3 RBI. Noah Cabrera would go 1-2 with 3 walks and score twice in addition to 1 RBI. Shane Muntz (Wake Forest) would score the only run for the Mohawks on a solo home run. He finished the night 1-3.
The Mohawks starter, Connor Manous (Indiana) went 4 innings, striking out 8 and giving up 5 runs, 4 of them earned. The Mohawks bullpen would hold Oneonta relatively at bay, with the Outlaws only getting one earned run on one hit. The relief would get 6 strikeouts and let up 5 walks.
The Mohawks were kept off the board with Outlaws' starter Tom Kretzler (Brockport) went 7 innings only giving up 2 hits and no runs.
From the outset, it appeared to not be Amsterdam's night, as Derek Orndorff (Penn St.) would lead off and reached on a wild third strike. Kyle Rudisili (Washington Lee) would immediately hit a single and score Orndorff on an error. After a walk, Eaton would hit a 3 run moon shot over the left field wall extending the lead to 4-0 after one inning.
The Outlaws would continue their hot hitting in the third with a solo home run by Nick Denicola (West Virginia). After scoring one more in the 6th inning off of a Chris Polletta (Fairfield) single, the Outlaws were quiet the rest of the night. Oneonta would score 4 more in the 9th on multiple throwing errors. Amsterdam would score their only run of the night in the bottom of the 9th off of a Muntz home run.
The Mohawks and starting pitcher Connor Manous took the loss and the Mohawks fall to 9-9. Oneonta and Tom Kretzler record the win and go to 8-8 in a convincing 9-1 fashion. The Amsterdam Mohawks go to the Roberts Smith Sports Complex in Booneville to take on the Adirondack Trailblazers with a 7 PM start time. Oneonta heads home to play the Albany Dutchmen. The Mohawks return home to face the Glens Falls Dragons on Thursday at 6:35 PM.
More News