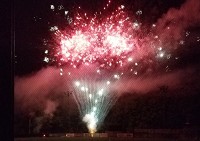 Sunday, July 01, 2018
7 Run Second Powers Mohawks Over Outlaws
By Justin Cohen
The Amsterdam Mohawks took a lead in the second inning that they would never relinquish, as they recorded a 7-5 win over the Oneonta Outlaws in PGCBL action on Sunday night at Shuttleworth Park . The Mohawks used a 7-run 2nd inning and a shutdown bullpen to get the win on Parkfest night at Shuttleworth, also remaining in sole possession of 1st in the East division.
Cole Barr (Indiana) went 1-for-2 with an RBI ad a walk, while Joe Genord (South Florida) recorded his 61st career RBI with the Mohawks on a single in the 2nd, putting him just 2 behind of the all-time leader in Ed Charlton (63).
The Mohawks' starter, Zane Stephens went 4 innings, giving up 5 runs, but only 3 earned. He gave up 7 hits and 2 walks, adding on 6 strikeouts. Oneonta's Dan Yankowski went only 2 innings giving up all 7 runs, only 5 of them earned. He allowed 6 hits and a walk on 2 strikeouts.
Noah Cabrera of the Oneonta Outlaws led his team going 2-4 with a home run, with 2 RBI. Nick DeNicola also had a nice night going 2-4 with 2 runs scored in the loss.
Oneonta struck first in the top of the 2nd, scoring off an RBI double by Kyle Ruedisili. The Outlaws tacked on two more in the inning from a throwing error.
The Mohawks then responded in force with a 7-run inning in the bottomr half of the inning. The Mohawks combined to hit 5 RBI singles in the inning, including a 2-RBI single by Mike Antico (St. Johns), giving them a 7-3 lead after 2 innings.
Oneonta countered the inning right after the Mohawks put up seven with another 2 of their own using a home run off the bat of Noah Cabrera (Towson).The rest of the night was all quiet as the bullpens took over and controlled the hitters to shutout the hitters the rest of the game.
The win goes to Blake Espinal (Seton Hall) who threw 3 perfect innings of relief, while the loss goes to Dan Yankowski(UAlbany). Ryan McLinskey (Seton Hall) recorded the save. The Mohawks have tomorrow off before returning home on Tuesday for another fireworks night against the Glens Falls Dragons for a 6:35PM start. The Outlaws face off at home against the league leading Jamestown Jammers, with a 7PM start time.
More News