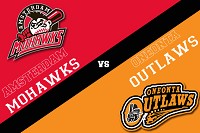 Wednesday, July 04, 2018
Mohawks Defeat Outlaws, 6-3
Peyton Plumlee (Mississippi State) improved to 4-0 as the Mohawks defeated the Oneonta Outlaws 6-3 on the 4th of July.
The Mohawks got on the board in the first inning as leadoff man Mike Antico scored after reaching base on a leadoff walk. Oneonta tied it up at 1 in the second and then the Mohawks got a string of base hits in the fourth to score 4 runs and take a 5-1 lead. The Outlaws brought 1 run home in the eighth to make it 5-2. Amsterdam scored again in the eighth on a bases loaded walk to make it 6-2. Oneonta scored a run in the ninth, but it was not enough as the Mohawks were able to secure the 6-3 win.
Plumlee went the first 5 innings and allowed 2 runs on 8 hits and no walks, while striking out 5. Zack Durant pitched a scoreless inning and Zane Stephens picked up his first save by going the final 3 innings and allowing 1 run on 2 hits.
Ben Rhodes had the best day at the plate as he was the only Mohawks player with 2 hits and 2 RBI. Michael Ludowig, Richie Barrella, Shane Muntz and Jake Hammon also drove in runs in the victory.
The Mohawks improve to 14-10 on the season and maintain a 1 game lead in the East Division. The Outlaws are now on a 4-game losing streak and drop to 10-12, 3 games behind the Mohawks and in fourth place.
The Mohawks will be off on Thursday and on the road Friday in Glens Falls. On Saturday the Mohawks and Dragons square off at Shuttleworth Park on the Brown's Ford Grand Slam Car Giveaway Night. If a Mohawks player hits a grand slam, someone in attendance will win a 2015 Ford Focus.
More News