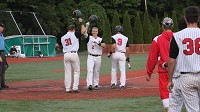 Tuesday, July 17, 2018
Mohawks Pick Up 7-2 Win Before All-Star Game
By Justin Cohen
The Amsterdam Mohawks beat the Oneonta Outlaws 7-2 at Shuttleworth Park. The Mohawks were able to take a commanding lead early and hold it behind stellar pitching and powerful hitting to get the win. With the win, the Mohawks took a 1.5 game lead in the Eastern Division of the PGCBL, with 11 games left in the regular season for Amsterdam.
Shane Muntz (Wake Forest) was stellar on the mound and at the plate, going 6 innings on the mound letting up only 2 runs, both earned. He let up 2 hits and 5 walks while striking out 3. At the plate, he would go 2 for 4 with a double.
At the plate, the Mohawks took advantage of 3 home runs hit by Joe Genord (USF), Cole Barr (Indiana), and Mike Antico (St. John's), while Richie Nizza (FAU) went 2-4 with a double and 2 runs scored in the win. Steve Minter (Georgia) went 1 for 4 with a 2-run home run in the loss.
Amsterdam got the scoring started in the bottom of the 2nd, using a Joe Genord solo home run and back to back RBI singles off the bats of Richie Barrella (Manhattan) and Michael Ludowig (Wake Forest). In the 4th inning, the Mohawks would tack on one more from a Mike Antico (St. John's) solo home run to get the score to 4-0.
In the 6th inning, the Outlaws first broke the no-hitter by Shane Muntz and then broke the shutout by scoring 2 runs. The 2 runs were scored by Outlaws' shortstop Steve Minter with a long home run to left-center field.
The Mohawks would then turn around and score 3 runs in the bottom of the 6th to bring the score to 7-2 getting 2 runs off a Cole Barr home run. Richie Nizza would then single and eventually come around to score on a wild pitch.
Shane Muntz (Wake Forest) will get the win and Raby Hampton (Texas-Tyler) will get the loss. Ben Rhodes (Herkimer CC) pitched 3 innings of no-hit relief. Amsterdam will be off tomorrow as the PGCBL All-Star game will take place. However, 4 Mohawks are rostered tomorrow to play in Elmira. The 4 All-Stars are Elvis Peralta Jr. (Marshall), Ryan McLinskey (Seton Hall), Zack Durant (Herkimer CC), and Richie Barrella.
Oneonta is also off tomorrow and will not resume play until Friday where they play at the Glens Fall Dragons, with a 7:05PM start time. The Mohawks will return home on Thursday to face the Glens Falls Dragons. The game at Shuttleworth Park will start at 6:35. The final score was Amsterdam Mohawks 7, Oneonta Outlaws 2.
More News