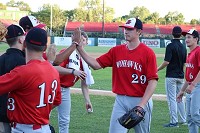 Sunday, July 07, 2019
Decker and 15 Strikeouts Lead Mohawks over Dragons
By Jon Sargalis
Johnny Decker and the Mohawks pitching staff lead the Mohawks to a 4-1 victory over the Glens Falls Dragons on Sunday night at East Field.
The Mohawks jumped out to a 2-0 lead in the first inning as they loaded the bases with nobody out. Johnny Decker and Mitch Hartigan followed and each recorded a ground out RBI.
Johnny Decker provided the rest of the Mohawks offence as he recorded RBI singles in the third and fifth innings as he went 2-for-4 on the day with 3 RBI.
Rye Gunter started and struck out the side in order in the first and third innings. Gunter hit a rough patch in the fourth when he walked 3 straight batters and a run scored when Shamus Connolly stole third and a wild throw by catcher Paul Franzoni allowed the run to score. Michael Turconi came in and retired the next 2 batters.
Rye Gunter went 3.1 innings, allowing 1 run on 2 hits with 4 walks and 7 strikeouts. Mohawks pitchers recorded 15 strikeouts and allowed just 3 hits in the game. Dale Stanavich went 3 innings, allowed 1 hit with 5 strikeouts and Mitch Hartigan went the last 2 and picked up the save as he struck out 2 in 2 perfect innings.
The Mohawks moved to 22-6 while the Dragons fell to 8-20.
The Mohawks are off on Monday and return to action Tuesday night as they host the Watertown Rapids at Rao Family Stadium at 6:35.
More News