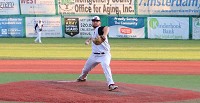 Tuesday, July 09, 2019
2-Hit Shutout Gives Mohawks 12-0 Win Over Watertown
By Wyatt Cushman
The Mohawks defeated the Watertown Rapids Tuesday night by a score of 12-0, improving their record to 23-6 on the season.
Travis Lane got the start for the Mohawks and was brilliant giving up just one hit in six innings of work while striking out six.
The Mohawks got on the board early in this one when Dalton Reese led off the bottom of the first with a homerun, his first of the season.
In the sixth, with the score already 4-0, Michael Turconi, Matt Padre, and Sam Zayicek all brought runners home on base hits with the big blow coming on Zayicek's 3-RBI single to make the score 9-0.
Brendan Disonell made his Mohawks debut and he shined striking out five Rapids in just two innings of work.
The Mohawks would tack on one run in the seventh and then two more in the eighth on a Geordan Blanton 2-RBI double to make the score 12-0.
Matt Padre and Sam Zayicek each had 3 RBI. Geordon Blanton was 3-for-5 with a double, 2 RBI, 3 runs scored and stole a base.
Travis Lane, Brendan Disonell and Dylan Smith combined to throw a 2-hit shutout. The only allowed 1 walk to Watertown and struck out 13. Lane picked up the win and improved to 3-0 on the season.
The Mohawks next game will be Wednesday, July 10 against the Saugerties Stallions.
More News