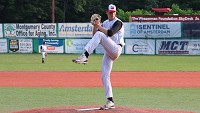 Wednesday, July 10, 2019
Mohawks Strikeout 17 In 4-1 Win
By Jonathan Kaiser
The Mohawk crowd was treated to another solid pitching performance from the Mohawks staff as Eric Cerantola (Mississippi State), Will Gambino (Kentucky), and Ryan Cardona (Marist) would allow just one run on five hits while striking out a combined 17 batters, nine of those coming from Cerantola in his four innings of work.
There were some early fireworks to go along with the tremendous pitching performance as Mitch Hartigan (Florida Atlantic) and Maxwell Costes (Maryland) would go back-to-back in the bottom of the first to go up 2-0.
That may have been the most exciting part of the game as tonight's matchup provided to be much more of a pitcher's duel than the slugfest we sometimes see at Rao Family Stadium. Cerantola, who threw four scoreless was matched up by Saugerties' starter Trent Shoeberl. Shoeberl would make it through 5.2 innings, allowing the two solo blasts in the bottom of the first, and then one more on a single off the bat of Michael Turconi (Wake Forest) in the fourth.
Saugerties had little life, but would threaten in the third, stranding the bases loaded and then threaten again in the sixth, stranding runners on second and third.
The Mohawks would tack on an insurance run in the bottom of the eighth and win the game comfortably 4-1. This makes three straight for the Mohawks who look to be back to their winning ways as they prepare for tomorrow's contest against the Albany Dutchmen at Siena Field.
More News