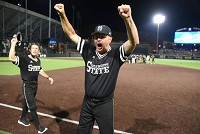 Friday, February 01, 2019
Mohawks Hall of Fame Inductee: Gary Henderson
College coaches use summer baseball teams as a way to develop their players, but they need to trust the teams they leave their players with will keep them healthy, provide a good experience and return them as better players.
Prior to 2006, the Mohawks were mostly comprised of players from small schools, or they had local connections. That all changed when Brian Spagnola met Gary Henderson, who was a coach for Kentucky at the time.
Since 2006, UK has sent 35 very talented players to Amsterdam. Ten of whom are still active in professional baseball today, including Luke Maile, who is in the Majors and Logan Darnell who is also being honored at this dinner. The success Kentucky players have had here has opened the door to the other big name schools who have sent players here and it has transformed the Mohawks into the powerhouse that it is today.
Prior to the 2009 season, the Mohawks were in need of a coach, Henderson contacted Spagnola and recommended a recently retired junior college coach who might be a good fit. Ten years and six championships later, the hiring of Keith Griffin has worked out fairly well.
Gary has coached baseball for 30 years. He became an Assistant Coach at Kentucky in 2003 and was the Head Coach from 2009-2016. In 2016, Henderson was hired as the Pitching Coach for Mississippi State. This past season, he was named the interim Head Coach and guided Mississippi State to Omaha where they advanced to the semifinals of the College World Series and then sent 4 more very talented Mississippi State players to Amsterdam.
Tickets for the evening are $45 and include a cocktail hour from 5:00-6:30, a full Italian family-style dinner, and autograph/picture time with Barfield. The evening, as always, also has both an extnesive silent and live auction.
Sponsors for the event are Driscoll Foods, Amsterdam Print, The Recorder and River Ridge Living Center.
For tickets contact Brian Spagnola at gm@AmsterdamMohawks.com
Tickets $45 each
Table of 10 $400
Table of 8 $320
Kids Price $20 each
General Admission seating (dinner not included) $20
More News