Friday, May 03, 2019
2019 Promo Schedule Released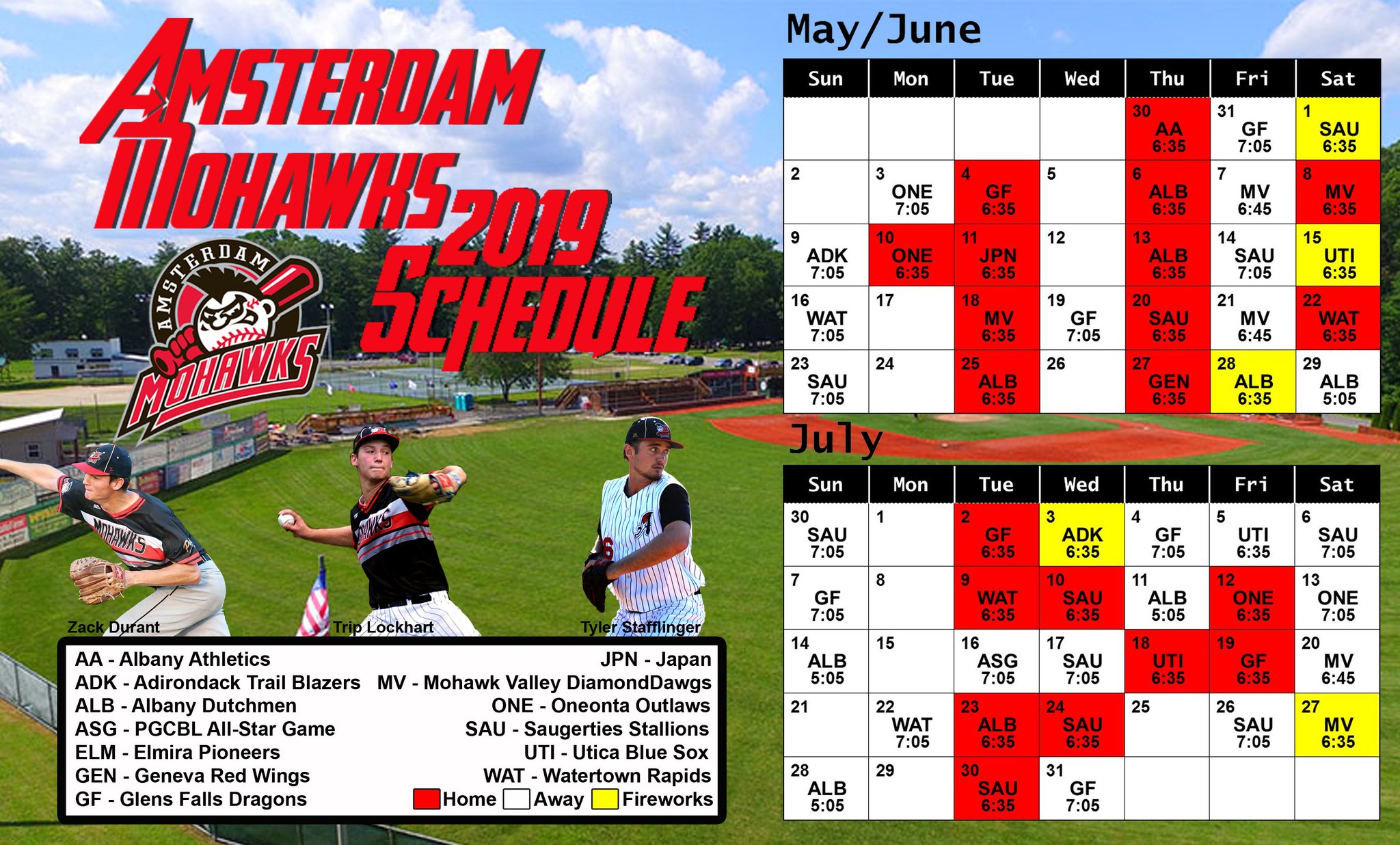 The Amsterdam Mohawks, presented by Sticker Mule, have released their promotional schedule for the 2019 season. The season begins on Thursday May 30 and runs until July 31, with playoffs beginning August 1.
Five fireworks dates highlight the season on June 1, June 15, June 28, July 3, and July 27. Some traditional staples will return such as Salute to Farming Night, Night at the Beach, Valentines Day in July, Autism Awareness Night, Salute to the HS MVP Night, Biker Night, Faith Night, Senior Night, Heroes Night, Halloween Night, Free Ice Cream Night, Bark in the Park, and Nascar Night. In addition every Thursday, we will still feature Thirsty Thursday with BOGO Drafts and we will have pre-game live music every weekend with drink specials starting at 4:45. Every Tuesday we will honor veterans by providing them free admission and a free Meal Deal coupon from our concession stand. Also, nightly we recognize a different community, honor their local school's 'Classroom MVPs', and host their Little League with free admission, a free clinic, scrimmage on the field, and some free food.
2019 also will feature some new themes during games:
June 4 Salute to Football Night where we will have area HS Football teams compete in various activities against each other
June 10: All-You-Can-Eat Night - literally for $10 you can eat unlimited amount of food.
June 11: Exhibition against professional team from Japan; Also Celebrate Diversity Night
July 9: Outdoorsmen Night
July 10: Family Four Pack Night - 4 admissions and hot dog meal deals for $20
July 12: Women Role Model Night where pay tribute to and recognize women who are role models in society
July 18: Courage to Change Night where we positively recognize people in recovery and have battled addiction
July 27: Make-A-Wish Wish Fest
In addition every Tuesday, we will have our own version of 'Wing Night' where we will serve $.50 boneless wings through the 6th inning.
Take a peak at our full promo schedule here and be sure to mark May 30 on your calendar.
More News