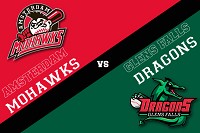 Friday, July 06, 2018
Mohawks Hold Off Late Rally Dragons, 5-4
Glens Falls, N.Y- The last time the Glens Falls Dragons met the Amsterdam Mohawks just a couple, of days ago, Glens Falls came away with a win at Shuttleworth Park. The Mohawks entered East Field Friday night looking to avenge that loss. Amsterdam did just that, fighting off a late Dragon's rally for a 5-4 win.
Amsterdam hit the scoreboard first in the top of the first, parlaying a pair of hits and two Glens Falls errors into a 2-0 lead.
In the fifth Richie Nizza (Florida Atlantic) led off with a double against Glens Falls starter Julien Arcos (LIU-Post). Two batters later Cole Barr (Indiana) singled and Nizza scored on a Michael Ludowig (Wake Forest) ground out to make it 3-0.
The Dragons pulled within 3-2 in the bottom of the sixth. Phoenix Hernandez (Southern New Hampshire) led off with a single and scored on an RBI single by Zach Fritz (LIU-Post). An RBI single by Nate Cobb (Malone) scored Matt Hamel (Siena) to cut the lead to 3-2.
Amsterdam scored a single run each in the seventh and ninth to extend the lead back to 5-2, and it turned out the runs were much needed.
In the bottom of the ninth Danny Ryan (Fairfield) walked and Anthony Vaglica (LIU-Post) blasted a two-run homer to cut the lead to 5-4. Amsterdam reliever Blake Espinal (Seton Hall) shut down the Dragons from there to preserve the win.
Zack Durant (Herkimer CC), 2-1, earned the win for the Mohawks. Durant went five innings, giving up four hits and two runs, while striking out six and walking three. Espinal picked up the save his first of the season.
Arcos, 1-2, took the loss for Glens Falls.
Mike Antico (St. Johns) was 2 for 5 for Amsterdam. Jake Hammon (Morehead State) also had a pair of hits.
Hernandez was 2 for 5 for Glens Falls.
More News