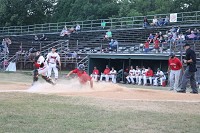 Sunday, July 22, 2018
Mohawks Slide Past Dragons, 7-2
By Jon Sargalis
The Mohawks won their fifth game in a row as they defeated the Glens Falls Dragons 7-2 at East Field on Sunday.
The Dragons took a 1-0 lead in the first inning, but the Mohawks tied it in the second as Cole Barr hit an RBI triple that scored Justin Foscue.
The Mohawks added 3 runs in the fourth as Justin Foscue scored on a wild pitch and Tanner Allen hit a 2-run single as the Mohawks took a 4-1 lead. Glens Falls got 1 run back in the bottom of the fourth as Brian Hart hit a solo home run off Amsterdam starter Trip Lockhart to make it 4-2.
In the eighth inning, Michael Ludowig drove in his 30th run of the season with a base hit that scored Mike Antico which gave the Mahawk a 5-2 lead.
In the ninth, Matt Padre collected his second hit of the day with a 2-run single that brought home Justin Foscue and Elvis Peralta putting the Mohawks in front 7-2.
Trip Lockhart was the winning pitcher and moved to 2-1, he went the first 5 innings, giving up 2 runs on 6 hits with no walks and 2 strikeouts. Brad Busald, Teddy Sabatoand Ryan Lanaro finished the game as they did not allow a hit in the final 4 innings. Sal Fusco started for the Dragons and fell to 0-2 with the loss. Ryan Lanaro pitched the final 1.2 innings and piched up his first save.
The Mohawks improved to 25-15 whit the win, while the loss droped the Dragons to 14-25. The Moahwks are off on Monday and will host the Elmira Pioneers on Tuesday at Shuttleworth Park.
More News