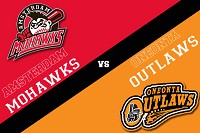 Thursday, July 26, 2018
Mohawks win 7th in a row, defeat Outlaws 5-3
By Jon Sargalis
The Mohawks keep their winning ways going as they won their 7th game in a row at Damaschke Field in Oneonta Thursday night. Amsterdam is 2 games behind Jamestown for the best overall record in the PGCBL as they defeated the Outlaws 5-3.
Amsterdam got off to a fast start as Tanner Allen hit a 2-run home run; his 3rd of the year, as the Mohawks lead 2-0 in the top of the first inning.
Oneonta came right back in the bottom of the first as Noah Cabrera lead off the game with a single and Cassius Young followed with a double. Steve Minter later hit a sac-fly in the inning to score Young and tie the game at 2.
In the fourth inning, Elvis Peralta singled and scored on an error by the first basemen as the Mohawks went up 3-2.
The Outlaws chased Mohawks starter Zane Stephens from the game in the fifth inning after starting the inning with 3 singles and a sac-bunt to tie the game at 3. Brad Busald entered with 2 runners on base and struck out the next 2 batters to keep the game tied.
Busald pitched a 1-2-3 inning in the sixth and the Mohawks took the lead in the seventh as Tanner Allen stole second, which allowed Mike Antico to steal home as the Mohawks went up 4-3.
Ryan Lanaro pitched the next 2 innings for the Mohawks and recorded all 6 outs as strikeouts.
Amsterdam padded the lead in the eighth as Justin Foscue scored on a Matt Padre base hit to make it 5-3.
Blake Espinal pitched a scoreless ninth to pick up his third save as the Mohawks won 5-3 and improved to 27-12, while the Outlaws dropped to 16-24. Brad Busald got his first win of the season for Amsterdam while Trevor Backman fell to 2-3 on the year for Oneonta.
Joe Genord was the only Mohawk with 2 hits, including his eighth double of the season. Amsterdam stole 7 bases in the game as Mike Antico went 4-5 in stolen base opportunities to reach 13 steals on the season.
The Mohawks head to Glens Falls to play the Dragons at East Field on Friday night at 7:05 before returning home on Saturday for the final fireworks night of the season.
More News