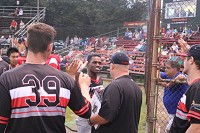 Friday, July 27, 2018
Peralta leads Mohawks to 8th win in a row
The Mohawks defeated the Glens Falls Dragons 12-3 at East Field on Friday night and are now 1 win away from clinching the East Division.
The Mohawks scored in each of the first 5 innings and held a 9-3 lead after 5. Elvis Peralta Jr. hit a 3-run home run and a 2-run triple as he drove in 5 RBI and was named the PGCBL Player of the Night.
Shane Muntz was 2-for-2 with a triple and 2-RBI while Jake Hammon was 2-for-4 with an RBI and 2 runs scored.
It was a staff day, so Tyler Stafflinger picked up his second win, despite only going 3 innings in the start. Stafflinger allowed 1 run on 1 hit with 3 walks and 4 strikeouts. Newcomers Matt Petrosino (Indiana) and Matt Gonzales (Herkimer) each made their debut by throwing an inning, while Michael Hughes, Teddy Sabato and Dale Stanavich each saw time on the mound.
The Mohawks improved to 28-15 with their 8th win in a row, while the Dragons fell to 14-26 with the loss.
The Mohawks play at home on Saturday night against the Oneonta Outlaws at 6:35. Saturday is Fireworks Night sponsored by St. Mary's Healthcare, Chocolate Night, Vendors Night and Pre-game music will be performed by Hitrick and Brooks from 5:00-6:30.
More News