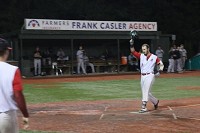 Saturday, July 28, 2018
Genord Breaks Home Run Record as Mohawks Clinch Division
By Justin Cohen
The Amsterdam Mohawks went back and forth with the Oneonta Outlaws in the first few innings, but would have 2 big innings during the game, putting up 6th in the third inning and 9 in the 8th to put the Mohawks in front, as the Mohawks won 21-8 in convincing fashion.
Joe Genord (USF) went 3 for 6 on the night, with 2 home runs. The first of his home runs would be his 14th as a Mohawk, setting the all-time career record. He would have 3 runs scored and 5 RBI. Jackson Wenstrom (Hudson Valley CC) would return after being out for a month and a half to hit a pinch-hit grand slam. Shane Muntz went 3 for 4 with 4 runs and 4 RBI including a home run. Anthony Eaton would go 2 for 3 with a walk, 3 runs, an RBI, and a home run in the losing effort for Oneonta. Cassius Young went 2 for 4 with a home run as well.
Colin Wetterau would start the scoring in the game with a RBI double.
Shane Muntz would hit a 2 run home run in the 2nd to take the lead 2-1. The Mohawks would not look back. They scored 6 in the bottom of the 3rd inning, 4 of which came with 2 outs. It was highlighted by a Justin Foscue (Miss St.) 3 run home run. Cassius Young would hit a 2 run home run for Oneonta in a 4 run 6th inning to bring the score to 9-7 Mohawks.
Amsterdam would score 1 more in the 4th. The Outlaws would score 2 in the 6th, using a Cassis Young home run. The Mohawks scored 3 in the 6th inning, using a Shane Muntz 2-RBI double. After a solo home run by Anthony Eaton in the 7th, the score was 12-8 Mohawks.
The Mohawks would then put up 9 in the 8th , using a grand slam by Jackson Wenstrom and 2 home runs by Joe Genord. Brad Busald (Indiana) got credited with the win in 2 innings of relief. Raby Hampton (Texas-Tyler) started the game and took the loss for the Outlaws.
The Mohawks clinched the Eastern Division of the PGCBL. They will play in Saugerties on Monday before returning home to face Albany on Tuesday. The Mohawks will also be home on Wednesday to face an undetermined opponent in the first round of the playoffs. The Mohawks have a win streak of 9 after winning the game against Oneonta by a score of 21-8.
More News