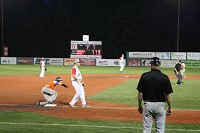 Tuesday, July 31, 2018
Mohawks Fall in Playoff Warm-up to Dutchmen
By Justin Cohen
The Amsterdam Mohawks lost a tough game against the Albany Dutchmen Tuesday Night, falling by a score of 6-1. The game started out scoreless through the first four and a half innings, but the Dutchmen would score 3 in each of the 5th and 6th innings to stretch out a lead insurmountable for the Mohawks.
Matt Gonzales (Herkimer CC) started the game for the Mohawks, not allowing a hit through his four innings of work for Amsterdam, walking 4 batters and not allowing a run and striking out 3 batters over 59 pitches. He was matched by Albany's starting pitcher, Anthony Fanelli (Manhattan). He went 4.2 innings, allowing one run on one hit and 4 walks while striking out 2
Brandon Seltzer (Fairleigh-Dickinson) led the night for the Dutchmen coming in in the 6th inning. He went 2 for 2 with a walk, hitting a pinch hit 2 run home run and a 2 RBI double for a 4 RBI night. Lucas Dunn (Louisville) went 2 for 3 with a walk and 2 runs scored. Jake Hammon (Morehead St.) went 1 for 3 and recorded the only Mohawks hit going with an RBI single.
The Amsterdam offense had difficulties all night, only getting one hit through the first 7 innings and one run from that hit, with the help of several walks from Albany pitchers. Jake Hammon had the only Mohawks hit in the 5th inning, an RBI single scoring Elvis Peralta Jr. (Marshall). The Mohawks were able to draw 4 walks and were hit by a pitch 3 times to get on base.
Brandon Seltzer had a 2 run home run in the 6th inning to highlight a 3 run inning. Seltzer would strike again in the following inning hitting a 2 RBI double to cap off back to back 3 run innings for the Dutchmen.
Brad Busald (Indiana) drew the loss tonight for the Mohawks and Nick Bruno (Siena) recorded the win. No save was credited. The final score was 6-1, with the Dutchmen getting the win. The same two teams will face each other again tomorrow in a sudden death game with a trip to the PGCBL semi-finals on the line. The start time at Shuttleworth Park is scheduled for 6:35.
More News