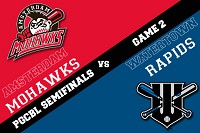 Friday, August 03, 2018
Mohawks Advance to Championship with 12-4 Win Over Watertown
The Amsterdam Mohawks are firing on all cylinders as they defeated the Watertown Rapids in Game 2 of the Semifinals, 12-4 to advance to the PGCBL Championship for the first time since 2016.
The Mohawks bats started quick as they scored 3 times in the first inning. Tanner Allen and Justin Foscue each had sac-fly RBIs and Joe Genord was hit by a pitch to force in a run.
2 more runs scored for the Mohawks in the second innins as Michael Ludowig and Shane Muntz picked up the RBIs and the Mohawks took a 5-0 lead.
Each team scored a run in the fourth. Richie Barrella scored on an error to make it 6-0. Mohawks starting pitcher Trip Lockhart was throwing a perfect game until the fourth inning when he allowed 2 hits and a run to score to make it 6-1.
Lockhart locked down the Rapids batters the rest of the way. He went 6 innings, allowed just the 2 hits, 1 run, 0 walks and struck out 8 as he picked up the win.
Shane Muntz kept his hot bat going as he hit a 2-run triple in the sixth to make it 8-1 and drove in Michael Ludowig in the eighth to make it 9-1. Muntz was 3-for-4 in the game with a walk and 5 RBI.
Justin Foscue drove in his second run of the game in the eighth as Tanner Allen scored to make it 10-1. The Mohawks also added 2 more runs in the ninth as Ben Rhodes had a pinch-hit RBI double and Genord drove in Rhodes with a single to make it 12-1.
After Lockhart left the game, Tyler Stafflinger and Nick DeBrino each threw a scoreless inning. Teddy Sabato pitched the ninth and allowed 3 runs before locking down the 12-4 victory.
The Championship series will take place August 6-8. The locations for the games are yet to be determined. Jamestown and Geneva are going to Game 3 in their series and will play on Saturday to determine who goes to the Championship. If Jamestown wins, they will have home field advantage and host games 1 and 3. If Geneva wins, the Mohawks will have home field advantage and host games 1 and 3.
More News