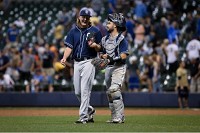 Thursday, August 09, 2018
Wingenter Makes MLB Debut
By Jon Sargalis
2013 Mohawks pitcher Trey Wingenter has become the tenth former player to reach the Major Leagues as he debuted with the San Diego Padres on August 7th in Milwaukee.
Out of Auburn University, Wingenter made 10 starts for the PGCBL Champion Mohawks in the 2013 season. That year, Wingenter went 2-4 with a 3.04 ERA and struck out 55 batters in 47.1 innings pitched for Amsterdam.
In 2015 the Padres drafted Wingenter in the 17th round. The Padres moved him to the bullpen and he's risen through their system in the reliver/closer role while his pitches have topped 100 MPH. After 4 years in the Minors, Trey had a 9-7 record with 33 saves and a 2.98 ERA in 169 innings pitched. He's held hitters to a .210 average and acclimated 198 strikeouts.
In his debut, Trey pitched a scoreless ninth inning for the Padres in an 11-5 victory over the Milwaukee Brewers at Miller Park. He retired all 3 batter he faced and recorded his first MLB strikeout as he blew a 98 MPH fastball past Christian Yelich.
If Trey can continue his dominance and high velocity, he should be a valuable commodity for the Padres bullpen and may find himself in a closers role within the next few seasons.
More News