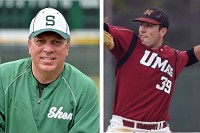 Sunday, November 25, 2018
Christodulu and Gedman Named Mohawks Assistant Coaches
The Amsterdam Mohawks have announced the signing of their two assistant coaches for the 2019 season. Greg Christodulu will return for his 3rd season with the Mohawks while Mike Gedman will begin his first. Gedman will replace longtime assistant coach Doug O'Brey who has relocated but will still be with the Mohawks in a more limited role for part of next summer.
Gedman will serve as the Mohawks pitching coach and is the son of former Boston Red Sox catcher Rich Gedman. Rich played with the Sox in the 80s and 90s and is currently the hitting coach for their AAA Pawtucket team. Mike attended UMass as a player where he was both a first baseman and pitcher. He played professionally from 2011-2013. He began his coaching career at Bryant University and served as an assistant there for 3 years. He then was the Head Coach of Division 3 Framingham State from 2013-2017. He is currently employed on the staff of Division 3 Plymouth State. He also served as a Head Coach in the prestigous Northwoods League and was the Head Coach of Winnipesaukee in the New England Collegaite League last summer.
Christodulu will return to the dugout and assist Griffin with the hitters in 2019. Last season, Greg worked with pitchers on the Mohawks staff. He boasts a long resume as both a coach and player. He is a former head coach at Susquehanna University and is currently the Head Coach of NY State power Shenendehowa HS. Shen won the NYS large school State Championship in 2016 and featured the 3rd overall pick in that year's draft Ian Anderson. His teams also have had players such as Brandon Cogswell, an All-American at Virginia and Justin Yurchak, a freshman All-American at Wake Forest. Greg was a standout athlete in the 80s, starting at quarterback at Syracuse as a true freshman before transferring to Delaware where he was a standout in both football and baseball. He will be in his third season with the Mohawks.
More News