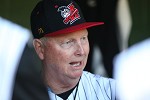 Keith Griffin is in his tenth season as the Mohawks head coach.
In 2017, Griffin reached the milestone of winning his 300th game as the Mohawks head coach and won his 1,000th game overall. The Mohawks still managed to have the best record in the PGCBL this past season as they went 36-12 and were ranked as high as 4th in the nation. Some key injuries caused an early exit from the playoffs for the Mohawks as the Mohawk Valley DiamondDawgs went on to claim the PGCBL title.
With the Mohawks, Griffin has a 333-128 record and 6 League Championships. Griffin, who resides in Pensacola, FL, was born on January 11, 1955, in Guntersville, AL, but grew up in Gadsden, AL. He is a graduate of Livingston University (AL) (1978) and holds a master's degree from the University of North Alabama (1980).  
COACHING EXPERIENCE:
Head Coach at Amsterdam Mohawks, 2009-2018
Head Coach at Okaloosa Walton College, 2002- 2008
Head Coach at Jefferson Davis C.C., 1996-2002
Assistant Coach at Okaloosa-Walton C.C., 1992-1996
Assistant Coach at Jacksonville University, 1990-1992
Head Coach at Pine Forest H.S., Pensacola, FL., 1980-1990 
COACHING HONORS:
Named National Coach of the Year (1998)
Two times named NJCAA Region 22 Coach of the Year (1998, 2000)
Two times named AJCCC Coach of the Year (1998, 2000)
NYCBL Coach of the Year (2009)
PGCBL Coach of the Year (2012)
Mohawks Hall of Fame (2017)
Back to Roster Page