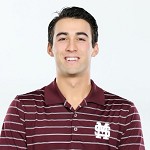 The Amsterdam Mohawks have announced the signing of one of their three assistant coaches for the 2018 summer. Former Kentucky standout and minor league player Austin Cousino was hired as one of the Mohawks hitting coaches for the summer.
Cousino was a 3rd round draft choice by the Seattle Mariners in 2014 and reached AAA in his minor league career. As a college player from 2012-14, Cousino was one of the top players in all of college baseball. He was named SEC Freshman of the Year after his 2012 season, SEC Pre-Season Player of the Year in 2013, and was a two-time National Gold Glove winner in center field. He also played for Team USA after both his freshman and sophomore seasons. He was ragarded as one of the top center fielders in college baseball during his years at UK.
"We are thrilled to bring Austin here to Amsterdam. His experience and reputation will be a great asset to us. Many of his former teammates at Kentucky had played for the Mohawks so he is very familiar with our organzation already. And as with most of our young assistant coaches here in Amsterdam, we expect his stop here to serve as a stepping stone for a career in college baseball coaching". said Mohawks President and GM Brian Spagnola.
Cousino is currently serving as a graduate assistant and head of video for the Mississippi State baseball program.
Back to Roster Page