Check out the
Mohawks Dance Team

A few of the many former Mohawks in professional baseball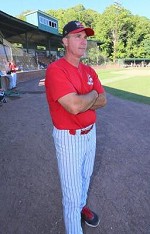 Doug O'Brey will be in his sixth season with the Mohawks. He is a former head coach at UAlbany and assistant at Siena College and brings years of coaching experience to the Mohawks. He played collegiately at Pfeifer College and his hitting prowess eventually got him inducted into the Albany Twilight League Hall of Fame. To top it off, Doug was elected into the NY State Baseball Hall of Fame last year where he was inducted with the likes of Lee Mazzilli and Frank Viola.
Back to Roster Page

Find Out More

Book a night in our air conditoned Sky Box with television and waitress service
Find out more
Book your next party with us!
Find out more

Sign up your group for Flag Presentation
Find out more