Check out the
Mohawks Dance Team

A few of the many former Mohawks in professional baseball

Brian Spagnola....President & GM

gm@AmsterdamMohawks.com -- 518-791-7546
Brian Spagnola has been President of the Amsterdam Mohawks since 2003. As a lifelong Amsterdam resident, he has dedicated himself to making Shuttleworth Park into a top venue for baseball in the nation. He has led the Mohawks to league championships in 2003, 2004, 2009, 2010, and 2012. He has also helped the Mohawks turn into one of the nations better game atmospheres as well as ranking amongst the leaders in attendance.
Spagnola began his affiliation with college baseball coaching at then NCAA Division II power The College of Saint Rose. He has served as an assistant coach there under Bob Bellizzi from 1991 to 2003 and also was the head coach of the Schenectady Mohawks from 1991-1993. His 1991 team had on it eight players who later went on to play professional baseball. He also served as an assistant coach with the Mohawks 1990 and 1994. He is currently the third winningest coach in Mohawk history. In 2003, he stepped away from Saint Rose to become the head coach at his alma mater, Amsterdam High School, where in just a few short years he has turned the program into one of the finest in the areas. As the Mohawks continued to grow, however, Spagnola was forced to step away from AHS and focus his efforts solely on the Mohawks.
He lives in Amsterdam with his wife Jill and and their family Marissa (17), Max (13), Mackenzie (11), Andrew (9), and Amelia (2).
..................................
David Dittman...Co-Owner

DDittmann@cox.net -- 401-255-1049
David Dittman joined the Mohawks in 2007 and in one short season was instrumental in helping double attendance figures and create a more business friendly environment with the Mohawks organization. Dittmann previously owned the Newport Gulls and helped start of Vermont Mountaineers of the New England Collegiate Baseball League where he was instrumental in the success of both teams. He also owned the Peninsula Pilots of the Coastal Plains League. All three of these teams have led their respective leagus in attendance during Dittmann's tenure.
Earlier, Dittmann owned an array of minor league team baseball teams, including the New Haven Ravens AA team. He grew up around baseball as his father was the corporate attorney for the Philadelphia Phillies for years.
In January 2007, he climbed Mt. Kilamanjaro and in 2013 he plans to also climb Mt. Everest.
Dittmann resides in Newport, RI.
..................................
Dan Nelli...Assistant GM

Dan@AmsterdamMohawks.com -- 518-320-4868
Dan is in his fourth season with the Mohawks. In 2010-11, he served in the role of Director of Concessions. In 2012, he was elevated to Assistant General Manager. His duties are general oversight of the team's day to day operations including corporate sales, corporate relations, groups, game day operations, and concessions.
Dan resides in Amsterdam.
..................................
Jonathan Kross...Director of Operations

JKross@AmsterdamMohawks.com -- 845-532-8353
A 2011 graduate of Coastal Carolina University with a Bachelors of Science degree in Sports Management and a minor in Communications, Jonathan is back for his 2nd season with the Amsterdam Mohawks. Having served as an intern with the Myrtle Beach Pelicans, the Advanced-A affiliate of the Texas Rangers organization, Jonathan comes to the Mohawks with valuable knowledge in all facets of major league baseball operations. Prior to accepting his current position as Director of Operations with the Mohawks, he also served as an intern with The Ripken Experience in Myrtle Beach, South Carolina. Originally from Kingston, N.Y., Jonathan enjoys the outdoors and is an avid New York sports fan.
..................................
Jon Sargalis-Director of Marketing&Media Relations

Jon@AmsterdamMohawks.com -- 518-258-4208
A Mohawks fan since 2004, Jon's first position with the team was as a photographer in 2006. He then volunteered to assist in stadium operations from 2009-10. In 2011, he became a marketing and promotions intern for the team. Jon was hired in 2012 as the Director of Marketing and Media Relations.
Jon is also entering his fifth season as an assistant coach and scorekeeper for the Broadalbin-Perth High School.
He is also serving as the Public Relations intern for the Adirondack Phantoms of the AHL for the 2012-13 hockey season under the direction of Bob Rotruck.
Jon currently resides in Broadalbin.
..................................
Barry Rouse...On-Field Entertainment

Barry@AmsterdamMohawks.com
..................................
Bob Malicki...PA Announcer

bettybob@nycap.rr.com
For many years now, Bob has been announcing players during baseball, football and basketball games in the Capital District area, while providing marketing information to fans on local promotion activities. Bob joined the Amsterdam Mohawks at the beginning of the 2007 season.
Since 1984, Bob has been the public address-announcing-voice of the Amsterdam High School Varsity Running Rams basketball team. Prior to that, he announced basketball and football for Bishop Scully High. From 1987 to 1995 Bob served as Public Address Announcer for the Albany-Colonie Yankees AA level baseball club, and then the Albany-Colonie Diamond Dogs professional baseball team at Heritage Park in Colonie. Each September through December during 1995 thru 2004 he was the Public Address Announcer for Union College NCAA football in Schenectady.
Bob originally started his baseball announcing "avocation" at Veterans' Field and then Shuttleworth Park, right here in Amsterdam, in the 1980's, while his sons were playing Wee Mens, Babe Ruth League and High School-level ball. For several seasons, Bob announced Section 2 and Regional High School Baseball Championship games at Bleeker Stadium, Albany and at Heritage Park.
Bob is retired now from his "day-job" of Assistant Director of Personnel at the State Labor Department and resides with his wife Betty in Perth.
----------------------------------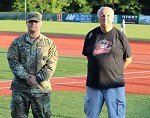 Bob Rotruck...Team Broadcaster

Twitter @BobRotruck
This is Bob's second year as the Mohawks broadcaster.
He currently serves as the Adirondack Phantoms Director of Broadcasting and Media Relations, a position he's held since 2010.
Bob brings a wealth of broadcasting experience to the Mohawks having also worked with several minor league baseball teams including the Vero Beach (Fla.) Dodgers and Elmira Pioneers. A native of Oxford, Ohio, he was also the long-time voice of Miami (Ohio) University Hockey beginning when he was a student there in 1992-93. He has called almost 2000 games in the four major sports.
Bob and his wife Teresa reside in Glens Falls.
..................................
Matt Harrington...Stadium Sound



..................................



Rosemary and Terry Smith...Host Family Coordinator

rsmith2024@nycap.rr.com
Rosemary and Terry are the official "Mom and Dad" of the Amsterdam Mohawks. Since 2005, they served as host families and in 2007 took on the task of being Host Family Coordinators. They serve as the liason between the players and the community and arrange their travel plans, living arrangements, etc.
Rosemary and Terry reside in Amsterdam with their son Dan.
..................................
Peri Schwabrow

Mohawks Meals Coordinator
----------------------------------
2013 Coordinators


Brandon
Brian
Mike
Nathaniel
Paul
Steven
Peter
Kayla
.................................





Find Out More

Book a night in our air conditoned Sky Box with television and waitress service
Find out more
Book your next party with us!
Find out more

Sign up your group for Flag Presentation
Find out more