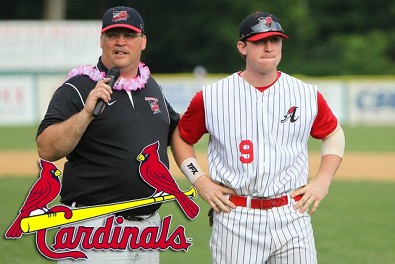 Nogowski Called Up To Cardinals
Former Mohawk and 2013 PGCBL Player of the Year, John Nogowski (Florida State) was called up to the St. Louis Cardinals, becoming the 12th former Mohawk to reach the Major Leagues
Mohawks Fall In Finale
The Mohawks held an early lead, but fell in the final game of the season to the Athletics by a score of 6-4
Players of the Week
Andrew Pedone | Will Van Beusekom
The Mohawks Player of the Week sponsored by Abdella & Sise is Andrew Pedone and the Pitcher of the Week sponsored by River Ridge Living Center is Will Van Beusekom
Shuttleworth Dining
The Only Way For Fans To Get In The Park

Unfortunately we cannot offer general admission tickets to the public this season.
The ONLY option to watch a game at the park is through a dining option where all NYS Outdoor Restaurant Guidelines will be followed.
Register for a spot at ShuttleworthDining.com
Mohawks Move Above .500
The Mohawks defeated the Glens Falls Independents by scores of 7-5 and 11-2 on Saturday and improved to 13-12 before the season finale
Watch Mel on ESPN
Mohawks outfielder is the star of the KT Wiz
ESPN is broadcasting games from the KBO and Mel Rojas Jr. (2009-10) is the cleanup hitter for the KT Wiz
Next Game: Saturday, August 8
KT Wiz vs. Hanwha Eagles 5:00 AM ESPN
First Round Foscue
Becomes Highest Draft Pick In Team History

2018 Mohawk Justin Foscue (Mississippi State) was selected as the 14th Pick in the First Round by the Texas Rangers. The pick was highest a former Mohawk has ever gone in the draft.
Poteet Signs With Tigers
2019 Mohawks outfielder DJ Poteet of Wake Forest has signed with the Detroit Tigers
Mundy Signs With O's
Slugging first baseman J.D. Mundy from the 2019 Mohawks and Radford University has signed with the Baltimore Orioles
Stay Connected to all things Mohawks
Become a Fan on Facebook

Become Friends With Mojo on Facebook
Like Coach Griffin on Facebook
Follow us on Twitter @MohawksBaseball
Follow us on Instagram
Suscribe on YouTube

More than 60 former Mohawks in professional baseball
John Nogowski (2013-Florida State) is one of twelve former Mohawks to have reached the Majors