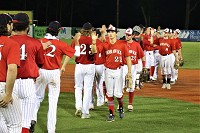 Thursday, August 1, 2019
Mohawks Advance to Division Finals, Defeat Stallions 6-4
By Jon Sargalis
The Mohawks eliminated the Saugerties Stallions by a score of 6-4.
The Mohawks took a 1-0 lead in the first inning as Dalton Reese scored on a Mitch Hartigan ground out.
With 2 outs in the third, Mitch Hartigan hit a triple that scored Dalton Reese and then scored on an error. Matt Padre followed with a walked, Michael Turconi singled and Richie Barrella drove them in with a 2-run double to put the Mohawks up 5-0.
In the fourth, Dylan Smith surrendered a bases loaded walk to give the Stallions their first run, but the Mohawks got in back in the bottom of the inning as Landon Jordan hit a sac-fly to score Kevin Jimenez as the Mohawks led 6-1.
In the fifth, Dylan Smith made one bad pitch and Jake Skrine made him pay as he hit a 3-run home run to deep center and cut the Mohawks lead to 6-4.
David Harrison pitched the final 4 innings and earned the save as he allowed 2 hits and 1 walk with 6 strikeouts. Dylan Smith was the winner as he went the first 5 and allowed 4 runs on 5 hits with 2 walks and 6 strikeouts.
More News