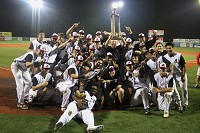 Wednesday, August 7, 2019
Mohawks Win 2019 PGCBL Championship
By Jon Sargalis
The Amsterdam Mohawks have won their fifth PGCBL Championship and their tenth Championship overall as they defeated the Adirondack Trail Blazers 10-4 on Wednesday night at Rao Family Stadium at Shuttleworth Park.
Adirondack was trying to force a Game 3 and scored 3 runs in the second inning off Mohawks starter Nick Massa. Steven Miller hit an RBI double that scored Vincent Cimini. Randy Flores drove in Zach Doss with a groundout and Connor Hamilton hit an RBI single that scored Steven Miller as the Trail Blazers took a 3-0 lead.
That lead was short lived as the Mohawks erupted for 6 runs in the third. Max Costes drove in Dalton Reese with a double and Mitch Hartigan followed with a double that scored Costes. The Mohawks tied the game at 3 as Richie Barrella hit a triple to score Hartigan. Michael Turconi gave the Mohawks the lead as Richie Barrella scored on a single and DJ Poteet added the explanation point with a 2-run home run over the left field fence as the Mohawks took a 6-3 lead.
In the fourth, Dalton Reese scored on a wild pitch to give Amsterdam a 7-3 lead. In the fifth, Paul Franzoni drove in Kevin Jimenez and Max Costes drove in DJ Poteet as the Mohawks took a 9-3 lead.
Nick Massa was electric on the mound. He went 6 innings, allowed 3 runs on 7 hits and 1 walk with 13 strikeouts. The final 6 outs Massa recorded were all by strikeout.
Massa turned the ball over to Dale Stanavich who delivered a scoreless seventh and Brendan Disonell pitched a scoreless eighth.
In the bottom of the eighth, Mitch Hartigan homered as the Mohawks brought a 10-3 lead into the final inning.
Trey Alderman came in for the final 3 outs, but Adirondack would not go down quietly as Chris Rotondo drove in Randy Flores with a single to make it 10-4. The game ended as Peter Cosentino took a called third strike.
The Mohawks went a perfect 5-0 in the playoffs and won their first championship since 2016. Max Costes was named the Finals MVP. In Game 2 Costes went 3-for-3 with a double, 2 RBI, 1 run, 1 walk and 2 stolen bases. That came off a Game 1 performance where he hit 2 home runs, with 3 RBI and 3 runs scored.
More News