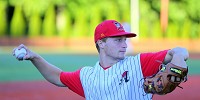 Tuesday, February 4, 2020
Amsterdam Baseball Hall of Fame Bio: Andrew Rouse
Andrew grew up in Hagaman and went through the Amsterdam City School District. He succeeded both on the baseball field and in the classroom. After graduating AHS in 2014, Andrew went to Marist College. He played 166 total games for the Red Foxes at both shortstop and third base while hitting in the middle of the lineup.
In the summer of 2015 Andrew filled in for the Mohawks and played 11 games, he returned in 2016 as an everyday player, appearing in 49 games and helped the Mohawks capture the PGCBL title. That helped kicked off a string of championships; Marist won the MAAC Championship in 2017 as Andrew homered in the clinching game and he helped the Valley Blue Sox win the NECBL title in the summer of 2017.
His junior year at Marist, Andrew led the team with a .311 batting average and his senior year he finished tied with the most hits on the team. Andrew was named to the MAAC All-Academic Team for 3 years, named CoSIDA Academic All-District team, named to the MAAC All-Tournament Team in 2017, MAAC player of the week twice and was named to the NECBL All-Star Team in 2017.
Andrew is currently attending SUNY Optometry in Manhattan to pursue a doctorate in Optometry and is on pace to graduate in May 2022.
More News