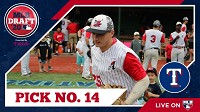 Thursday, June 11, 2020
First Round Foscue; The Highest Draft Pick In Mohawks History
By Jon Sargalis
In this year's abbreviated MLB draft, only one former Mohawk was drafted. However, that pick also made history as it was the highest a former player has ever gone in the draft.
The Texas Rangers held the 14th pick and used it to select 2018 Mohawk Justin Foscue in the first round. The highest a former Mohawk had gone prior to Foscue was Griffin Roberts, who was taken with the 43rd pick by the Cardinals in 2018. Ian Anderson was on the Mohawks roster in 2016, but when the Braves took him with the 3rd overall pick that year, he decided to forgo his college career and never actually suited up for the Mohawks.
Foscue was a late arrival to the Mohawks in 2018 as he and Tanner Allen made it to Omaha and the College World Series with the Bulldogs that summer. They didn't play their first game in a Mohawks uniform until July 10th. Foscue played third base in 17 regular season games and 6 playoff games all together. In those 23 games, he had a .273 average with 3 home runs, 2 doubles, 12 RBI and 17 runs scored.
Foscue's best attribute was his work ethic. Always looking for ways to improve, he'd often stay late to take extra batting practice following home games and would have a few other players join in. His personal performance, or the team's performance didn't factor in those decisions either. He hit for several hours at Shuttleworth Park following a game in which he had the game winning walk-off hit and a game that the Mohawks had won 21-8.
In 2019, Foscue transformed in his sophomore season at Mississippi State. As a freshman, he hit .241 with 15 extra base hits and 20 RBI. As a sophomore, he moved to second base and in 67 games he hit .331 with 14 home runs, 22 doubles, 60 RBI and 67 runs scored. He was named first-team All-SEC at second base, second-team All-America at second base from the American Baseball Coaches Association, Collegiate Baseball Newspaper and D1Baseball and third-team All-America by Baseball America, the National Collegiate Baseball Writers Association and Perfect Game.
Last summer he played with Team USA and led the team with 3 doubles.
In this year's shortened season, the Mississippi State junior had a .321 average in 16 games with 2 home runs, 4 doubles and 16 RBI.
"Good for the Mohawks, but the kid was a great player, man," Amsterdam manager Keith Griffin said in an interview with the Times Union. "What was amazing is how hard he worked every day. He's a very serious kid. You would think when he played, he almost didn't have fun. He was having fun, but his demeanor was very serious. He knew why he was there. He was there to work, get better and that's what he did."
"I knew (Foscue) would be a draft pick, but that body got better and better,'' Griffin said. "He's a very, very physical second baseman. They (Mississippi State) moved him from third to second, and good for them, having the insight to do that. I didn't see that. I thought he was going to be a third baseman, but they moved him up the middle, and I'm sure that and hard work propelled him to the 14th pick of the Rangers."
Following his selection, Foscue said "I would say that throughout my whole life, I've never been the top rank kind of player. You know, in high school, I never was highly touted or heavily recruited. But I always felt like I belonged in the SEC, the ACC, that kind of level of play. So I had a chip on my shoulder to prove people wrong. I believed in myself, and I just went to work and I put my head down and I didn't listen to the outside noise with the rankings and such."
More News