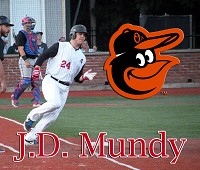 Sunday, June 14, 2020
Mundy Signs With Orioles
Free agency opened up for players that went undrafted on Sunday and the Baltimore Orioles wasted no time as they signed 2019 Mohawks first basemen J.D. Mundy from Radford University. Altogether, the Orioles signed three players on Sunday and each received the maximum $20,000.
Mundy played 21 games for the Mohawks in 2019 with a .456 average and a .823 slugging percentage before leaving due to injury. He clubbed 6 home runs, 9 doubles and 1 triple with 31 RBI and 18 runs scored in 79 at-bats.
The following is the press release from Radford Athletics:
RADFORD, Va. – Radford senior infielder J.D. Mundy will begin his professional playing career fairly close to home after signing a contract with the Baltimore Orioles on Sunday.
"I'm excited for this opportunity," Mundy said. "I've wanted to play baseball at the pro level my whole life and have thought about this for some time. I'm really grateful to the Orioles organization for giving me this opportunity."
Mundy, the 2020 Big South Preseason Player of the Year and a 2019 Big South First Team All-Conference selection, hit .323 with 17 homers and 74 runs batted in across the 2019 and 2020 seasons with the Highlanders. Mundy also had 23 doubles and 48 walks, posting a combined .425 on-base percentage and a .606 slugging percentage while donning a Radford uniform.
"On behalf of the Radford baseball program, we'd like to congratulate J.D. on signing with the Baltimore Orioles," head coach Karl Kuhn said. "In the short timespan that I've been around J.D., he has exemplified being a great teammate, selflessness and a tremendous work ethic, traits that will carry him far in baseball and in his life. I'm happy for him and his family and am looking forward to watching his success with the Orioles."
In the shortened 2020 season, Mundy put up a .385 batting average with six doubles, four homers and 19 runs batted in. Mundy led the Big South in homers, RBIs, total bases (43) and slugging percentage while also being the toughest hitter to strike out in the entire conference, with just four strikeouts in 65 at bats.
"I spent some time this morning talking with the Orioles and what their hitting coaches and instructors presented to me was appealing," Mundy said. "I liked the coaches and their approach, and I thought this organization was the best fit for me in trying to advance through the minor league system and achieve my goals."
Mundy becomes the 32nd Highlander in program history to either be drafted by an MLB organization or sign as an undrafted free agent, and the fifth to be drafted or signed by the Orioles. The Roanoke, Virginia, native is the 10th Highlander in program history to sign as an undrafted free agent, albeit under different circumstances with the 2020 MLB Draft being shortened to five rounds.
"I really enjoyed all the players and coaches here at Radford," Mundy said. "I'm disappointed that we didn't get to finish this season because I thought we had a really special group here that could win a championship, but I loved my time at Radford. I'm ready for this next chapter."
More News