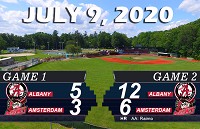 Thursday, July 9, 2020
Mohawks Swept by A's, Fall to .500
By Jon Sargalis
The Mohawks dropped both games to the Albany Athletics on Thursday by scores of 5-3 and 12-6.
Dale Stanavich started for the Mohawks and pitched 2 scoreless, hitless innings with 1 walk and 3 strikeouts.
Von Baker started the third inning and struggled. He walked the first 2 batters and was helped out by his catcher, Danny Moshier, when he threw out Brendan Harris trying to steal third. Austin Lawrence followed with a double and 2 more walks forced in a run.
David Montalvo took over with the bases loaded and got a strikeout and ground out as the A's only scored one run in the third.
Montalvo came back out for the fourth inning but could not repeat his success as Brenda Harris hit an RBI double and Donovan Rhoden followed with a 2-run double as the Athletics took a 4-0 lead.
Amsterdam finally got on the board in the fifth when Nick Marola hit a double to score Jake Reinisch. Two batters later, Danny Moshier hit a 2-run double that scored Devin Disonell and Nick Marola as the Mohawks trailed 4-3.
The A's picked up an insurance run in the sixth as Anthony Raimo scored on a passed ball to make it 5-3.
Former Mohawk Zach Breen picked up the win for the Athletics as he went the first 4 innings, allowing 1 run on 2 hits with 2 walks and 6 strikeouts. Chris Salamida earned the save as he went the last 2.1 innings, allowing 2 hits and recording 2 strikeouts.
Von Baker took the loss for the Mohawks as he allowed a run to score in the third.
The Mohawks looked to flip the script in the second game. Brendon Disonell started on the mound and seemed to be locked in as he set the Athletics down in order with a groundout and 2 strikeouts.
Nick Kondo led off with a single in the first off former Mohawk Nick Bird and after 2 walks, Dan Parslow hit a 2-run single to center to put the Mohawks up 2-0.
The wheels came off for the Mohawks after that. Disonell walked the leadoff batter, Anthony Raimo followed with an RBI double and Chris Salamida followed with a game-tying single. Disonell would only record 1 out in the inning while giving up 6 runs.
Luke Pascarella relived Brendan Disonell and fared no better. Anthony Raimo led off the inning with a home run as he went 3-for-3 in the game with 3 RBI and 3 runs scored. Pascarella went 2.1 innings and allowed 5 runs with 4 earned as the Athletics led 11-2 after 3 innings.
Brian Hart would add an RBI single for the Mohawks and Cam Collett would hit a 2-run double. The game ended after the 6th inning as the Athletics lead 12-6. Nick Bird was the winning pitcher and Brendon Disonell took the loss.
More News