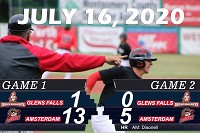 Thursday, July 16, 2020
Firing On All Cylinders; Mohawks Sweep Independents
By Jon Sargalis
The Mohawks acted like they were shot out of a canon on Thursday as they set the tone with an 8-run first inning as they defeated the Glens Falls Independents 13-1 and 5-0 to even their record at 4-4 and return to .500.
Nick Kondo was the leadoff batter and got the Amsterdam going with a single. Andrew Pedone followed with an RBI double to make it 1-0. Brian Hart was hit by a pitch, then the hit parade started. The next 5 batters (Ben Lavery, Danny Moshier, Joe Novenche, Reilly Hall and Ben Rhodes) each hit RBI singles to put the Mohawks up 6-0. Jake Reinish followed with a bases loaded walk and Jeffery Brennan grounded into the first out with a fielder's choice, however Ben Rhodes crossed the plate to make it 8-0.
In the second, Joe Novenche made it 9-0 with an RBI double that scored Ben Lavery.
The Mohawks would add 3 runs in the fourth on a Joe Novenche bases loaded walk and a 2-run single by Ben Rhodes and 1 more in the fifth off a Brian Hart single.
The Mohawks pitching staff was equally impressive as they held a no-hitter until the sixth inning and a 3-hitter for the game. Brendan Disonell started and went the first 3 innings with 5 strikeouts and 1 walk. Devyn Fahnestock followed with 2 innings with 2 strikeouts and 3 walks. The Independents got their first hit off Luke Pascarella in the sixth, but he recorded 2 strikeouts in his innings of work. Will Van Beusekom finished the game, he allowed 2 hits and one run scored on a passed ball, but he struck out the side to end the game as the Mohawks racked up 12 strikeouts.
Brendan Disonell was the winning pitcher and Zach Snyder took the loss.

The second game was cut short due to rain in the third inning.
Dan Parslow started and was on his game as he pitched all 3 innings, allowing 1 hit and 1 walk while striking out 6 for the win.
Eric Corhouse kept the Mohawks off the board for the first two innings, but the bats came alive in the third as the Mohawks scored 5 runs. Devin Disonell started off the inning with a home run. Cam Collett walked, Reilly Hall reached on an error, and Brian Hart singled to load the bases. Joe Novenche walked to force in a run, Reilly Hall scored on a wild pitch and Jake Reinisch hit a sac-fly to make it 4-0. Andrew Pedone, who doubled in his previous at-bat hit a triple that scored Novenche to make it 5-0.
At that point, the rain was too much to endure and the game was called. Dan Parslow received the win and Eric Corhouse took the loss.
Between both games, Andrew Pedone was on fire as he hit 3 doubles and 1 triple.
More News